SELF-PORTRAITS: A. ŠLAUSTAS, T. KUTAVIČIUS, D. NAUJOKAITIS, J.HAFFNER
(Lithuania – USA)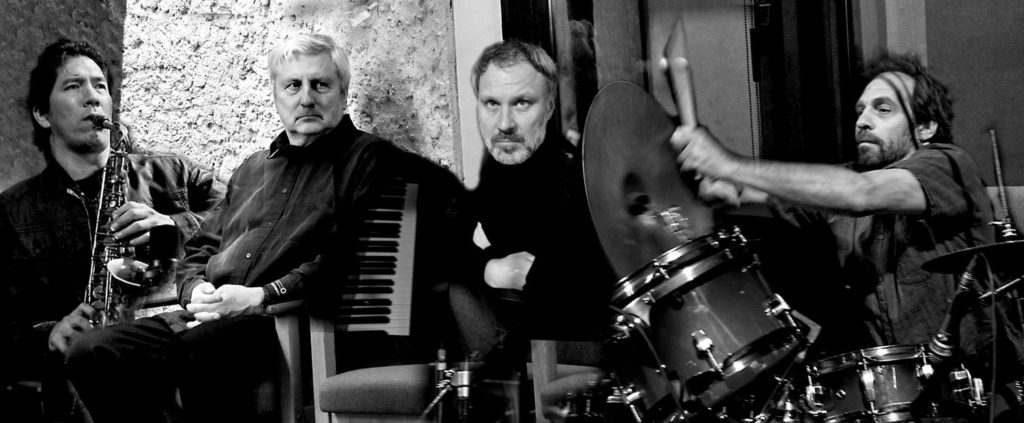 Arūnas Šlaustas – keyb, p
Tomas Kutavičius – p, keyb
Jonathon Haffner – saxes
Dalius Naujokaitis – dr
Specially devised for this festival, the unconventional project promises free-spirited music based on intuition and impromptu. The idea for the project came from the keyboardists of the band, Šlaustas and Kutavičius, who began collaborating two decades ago.
According to them, the quartet follows a similar principle of collaboration as the two of them: each of its members presents his own theme and the group develops it collectively. "From improvised sketches we will try to create four different self-portraits of our own. It will only be clear on stage how we will succeed, "explained Šlaustas.
Music of keyboardist and composer Arūnas Šlaustas embodies a dialogue between jazz and academic music.
Šlaustas commenced his career as a performer of academic music. After graduating from the Lithuanian Academy of Music, where he studied piano, he performed as a recitalist and as a soloist with the Lithuanian Chamber Orchestra and the Lithuanian National Symphony Orchestra, and took part in contemporary music projects as a member and co-founder of Ex tempore ensemble.
The pianist has collaborated with the Lithuanian Wind Instrument Orchestra Trimitas, Vilnius String Quartet, folk music groups, wrote music and performed with St. Christopher Chamber Orchestra.
He started playing jazz in 1987 in Vladimir Chekasin's Big Band of the Lithuanian Academy of Music. Later he played keyboards in Arnoldas Gurinavičius' Quartet, The New Lithuanian Trio, D. Praspaliauskis' Quartet and Dixieland. Together with the latter he formed Contra Jazz quintet.
With various formations Šlaustas toured in Denmark, Austria, Germany, Slovenia, Poland, Russia, the Ukraine, Latvia and Estonia.
The LRT archives house over 100 of his solo recordings and collaborations with various performers. The LAMT Publishing Centre has published a collection of his works for jazz ensembles. Šlaustas is an associate professor at the LAMT Jazz Department.
Composer and pianist Tomas Kutavičius is the only one from this quartet to have performed with all its members in the past. He, like his colleague, has experience in both jazz and academic music. Tomas received education in both fields at the National M.K. Čiurlionis School of Art, Vilnius Conservatoire and the LAMT. At the latter he studied composition.
As a composer, he combines elements of both jazz and academic music in an idiosyncratic way. As a performer he excels at keyboards and vocal. The audience of the most important jazz festivals in Lithuania was convinced of that many times. The musician has also toured with various formations in many European countries, USA and Japan.
On jazz scene Tomas has collaborated with Petras Vyšniauskas, Arkady Gotesman, Juozas Milašius, Eugenijus Kanevičius, Skirmantas Sasnauskas, Dalius Naujokaitis, Vytautas Labutis, Vladimir Tarasov, Vladimir Chekasin, Klaus Kugel, Theo Jörgensmann, Jacques Siron, Jana Koubkova and Anatoly Vapirov among many other celebrities.
Among his jazz projects noteworthy are Conversations With My Soul (1991), Magister Ludi (2001) and Autumn Chant (2004).
Kutavičius' academic opuses receive critical acclaim and draw interest from performers. His Concerto Divine Rampage for piano and symphony orchestra was voted to be "The Best Work of 2013", the opera for children Dwarf Nose written for Kaunas State Musical Theatre was awarded Kaunas city "Fortuna" prize, and his music for project A Journey of the theatre studio Ąžuolas – the Grand Prix at the International Theatre Festival in Grenoble.
Tomas Kutavičius has composed operas, a ballet, musicals for children, and incidental music for various theatre productions in Lithuania as well as the Tokyo Dora Theatre Company. His academic music, like jazz, is temperamental, filled with a flair of improvisation.
Saxophonist Jonathon Haffner was raised in Southern California where he began playing saxophone at an early age. He later studied at Rutgers University graduating with a BM in Music Performance. 
After moving to New York, Haffner has performed/recorded with Butch Morris, Elliott Sharp, Bill Frisell, Jason Moran, Steven Bernstein, Medeski, Martin & Wood, Uri Caine, Jim Black, Eddie Henderson, Chris Potter, Jesse Harris, Brazilian Girls, Brian Blade, Graham Haynes, The Nublu Orchestra, Art Baron, David Binney, Craig Taborn, Kenny Wollesen, Rickie Lee Jones, Red Baraat and other New York celebrities.
Haffner co-leads the group Himalayas, often collaborates with D. Naujokaitis.
The saxophonist has been involved in avant-garde filmmaker Jonas Mekas' (1922–2019) ensemble Now We Are Here, and has repeatedly performed with Jonas Mekas' fans in Lithuania.
Dalius Naujokaitis, a drummer of avant-garde experimental music and free jazz, has been living and working in New York for a quarter of a century. However, he regularly comes to perform in Lithuania where he had formed Naujo Atomic Orchestra, which toured in Austria and Croatia. He also worked with Traffic Trio, collaborated with saxophonist Liudas Mockūnas, local jazz youth and American improvisers.
Naujokaitis began his jazz career in Lithuania. Since 1986, he has played in Skirmantas Sasnauskas' jazz ensemble, later became a member of Juozas Milašius' Gitarmanija, and became fascinated with noise music.
While living in Vilnius, the drummer played with many a Lithuanian jazz master, including Vladimir Chekasin, Petras Vyšniauskas, Tomas Kutavičius and Eugenijus Kanevičius, as well as various rock, jazz, punk, and pop music bands.
In 1995, at the invitation of filmmaker Jonas Mekas, Dalius went to New York and stayed there – co-founded the Free Music on Second Street band in Jonas Mekas' Anthology Film Archive, and collaborated intensively with the filmmaker himself, Eugenijus Varkalis and Audrius Naujokaitis.
Dalius' music is featured in Mekas' films Happy Birthday To John Lennon, On My Way To Fujijama I Saw and This Side Of Paradise.
The drummer's jazz career kicked-off in New York City after he met avant-garde musician Kenny Wollessen. Dalius joined Wollessen's band, later he started forming his own bands, initiating various projects, and became involved in New York club life.
On the other side of the Atlantic, the drummer has played and recorded with a number of renowned improvisers, as well as The Nublu Orchestra, Now We Are Here, Brooklyn Bears, Tiger Lithy, Nick Gianni's Evolution, Kenny Wollesen's Wollesonic Laboratories and The Himalayas, collaborated with dance music group Brazilian Girls and many more.
With New York artist Sandra Koponen, Dalius has formed a group Untytė, which draws inspiration from sutartinės, the Lithuanian ancient form of two and three voiced polyphony. His other project, Rasa Rasa, conceived by the drummer together with Wollessen and Haffner, united improvisers and sutartinės performers from Lithuania. It is documented on the CD Wollesen, Haffner, & Naujo: Rasa, Rasa, released in 2014 on John Zorn's legendary Tzadik label.
Naujokaitis has already done a lot in theatre and film. In 1994, with Juozas Milašius and Valdas Pranulis he produced the play The Woman in the Dunes (based on the novel by Kobo Abe), and with Vilija Naujokaitienė composed music for the movie One Love Story (director Julius Žižliauskas).
In New York, Naujokaitis co-authored a musical film project with Ken Jacobs called Lumiere/Naujokaitis/Jacobs: Nervous System Concerts, collaborated with modern dance company Limbic Six and Tiny Mythic Theatre, and produced films The Door (2011) and Score for the Conducting Machine (2012). These films are designed as scores for his musical work, The Conducting Machine. The latter's performance included Dalius' mother, playing a knitting machine.
"He is completely absorbed by his art. Having lost his mind to music muses, he moves forward in an unpredictable and dangerous way, as do all poets, " late Jonas Mekas once described his friend Lithuanian drummer.
In 2016, Naujokaitis was awarded the Vilnius Jazz festival award for contributions to Lithuanian jazz.