ARVYDAS JOFĖ'S PROJECT THE TREE OF LIFE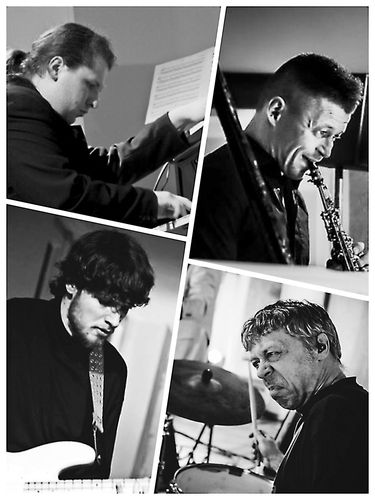 Arvydas Jofė – dr
Motiejus Bazaras – keyb
Tomas Botyrius – saxes
Mykolas Bazaras – b
Arvydas Jofė, one of the most talented Lithuanian drummers, returns to the Birštonas Jazz after a 10-year break. With his quartet 2+2 he pays tribute to composer, jazz pianist and band leader Gintautas Abarius, Jofė's long-time companion and soul mate who has left this world more than nine years ago (1959–2010). Abarius won the Birštonas Jazz's prize twice: with the Alexander Fedotov Trio (1980)  and with his quartet (1988).
A former member of the Gintautas Abarius' Trio, Jofė still vividly remembers his talents as a musician and spiritual leader. In 1993, Abarius, Fedotov and Jofė recorded an instrumental piece, The Tree of Life, inspired by the Psalms of Scripture at the Vilnius Recording Studio. The quartet 2 + 2 will bring it back to life.
Abarius, the composer of many songs that have become anthems of the Lithuanian rebirth (Šaukiu aš tautą/I Call the Nation, Dieve, Laimink Lietuvą/God, Bless Lithuania, etc.) and the Lithuanian pop hits (Mažyte mano/My Little One, Daiva etc.), as well as chamber instrumental works, music for theatre, TV and film, hymns and sacred jazz compositions (Džiazo mišios/Jazz Mass, Šventas Dievo Avinėli/Holy Lamb of God, etc.), is remembered by his colleagues as a spontaneous man who nurtured great passion for creative act. Today, the quartet 2 + 2 will revisit his music, uniting four distinguished jazz personalities.
Arvydas Jofė is one of the most expressive Lithuanian drummers. He earned recognition at the age sixteen when he was voted the best drummer at the Liepaja Dzintars festival in Latvia.
At the beginning of his professional career (in the 1970s) he played in rock bands and various other formations (Bildukai and Nuogi ant slenksčio), later joined Oktava vocal-instrumental ensemble.
He made his jazz debut while still a student at the Lithuanian State Conservatoire's Klaipėda Faculty. Here he has collaborated with Saulius Šiaučiulis' Quartet and Pranas Narušis' Big Band. Later on, he formed his own Big Band.
Upon return to his native Kaunas, he collaborated with Romualdas Grabštas' Quartet,
Gintautas Abarius' Trio, for almost a decade was a member of Vladimir Chekasin's Quartet. He has also played in Kaunas Big Band.
Jofė has been appearing in solo programmes since 1992. His concerts remind a one-man show revealing his inexhaustible imagination and wide range of expression means. Resourcefully combining acoustic and electronic percussion instruments, he develops theatrical stories saturated with unexpected dramatic turns and energetic outbursts.
Since 2003, the drummer has actively performed with Lithuanian Jazz Trio also involving his colleagues Vytautas Labutis and Leonid Shinkarenko. The ensemble toured in Finland, Sweden, Switzerland, Italy, Greece, France, Germany, Japan and Russia. The Lithuanian Institute presented Lithuanian Jazz Trio with an award for promulgation of Lithuanian jazz in the world.
With various collectives Jofė has appeared in all jazz festivals in Lithuania and many a jazz festival in Europe.
Multi-instrumentalist Motiejus Bazaras is one of the most creative and versatile musicians in Kaunas, collaborating with the most riveting representatives of academic, jazz, rock and other music styles.
His path to the stage began at the Varpelis choral singing school. He continued his education at the Juozas Naujalis Music Gymnasium and Juozas Gruodis Conservatoire. In 2017, the pianist graduated from the Lithuanian Academy of Music and Theatre, where he earned the PhD in Art. As an exchange student, he also studied at the College of Music and Dramatic Art in Hamburg.
Motiejus is a prize winner of more than 20 international competitions, including Balys Dvarionas Piano Competition (2002; Grand Prix), Stasys Vainiūnas Piano and Chamber Ensemble Competition (2010; 1st prize), Mikalojus Konstantinas Čiurlionis Piano and Organ Competition (2011 and 2015; diplomas), Jāzeps Vītols Piano Competition (2013; 2nd prize).
Thanks to his high personal standards, excellent command of the instrument, sense of style and ability to be attuned to his music partners, the pianist is regularly invited to play with ensembles of various musical backgrounds. He performs ambitious solo programs and appears with orchestras – he has performed with Kaunas, the Lithuanian and Tallinn chamber orchestras, the Lithuanian National, the Latvian National and Plovdiv (Bulgaria) symphony orchestras, collaborated with various chamber ensembles, took part in Guoda Gedvilaitė's project Clara Schumann Salon.
From an early age, Motiejus has been playing as a piano duo with his brother Mykolas. In various projects the two brothers are often joined by their third brother, Benediktas. The trio plays jazz and has instituted the social jazz movement Bazarai JazzTrain, formed a trio #sotuskaunomuzikai embodying Motiejus' musical values and openness to novel ideas.
The pianist is a member of many jazz ensembles and projects. He has won several international awards with his jazz trio. Motiejus has presented various projects and groups at eight Kaunas Jazz festivals. So far, he is the only Lithuanian who has put his hands on the Hammond organ here. The artist is also experimenting with electronic music.
Tomas Botyrius started his musical career in Kaunas Big Band and Kaunas Artists' House Jazz Quartet. With these groups the saxophonist became part of cultural life of both Kaunas and Lithuania as a whole.
He later collaborated with many Lithuanian jazz masters, as well as with pop and academic musicians, actors and dancers. In 2008, he made his debut as a quintet leader in Birštonas Jazz.
The musician works with various bands, appears in TV projects. He has participated in all jazz festivals in Lithuania, toured in many European countries, as well as Japan and Afghanistan.
Mykolas Bazaras regularly collaborates with his brother Motiejus and Jofė. An amazingly capable bass player, he has mastered electric and acoustic instruments. He is at home in improvised and pop music, jazz, salsa, gospel as well as academic repertoire, participates in electronic music projects.
Mykolas has sided in Baltic Salsa Orchestra, Avanti String Orchestra, played in Leonardas Pilkauskas' Jazz Quartet, Dalius Naujokaitis-Naujas' Atomic Orchestra, pop group UAB Music, Baiba's Groove House, groups Yrinauda, ​​3Fingers, Certain Case, Mad Harmonix and many more.