(dirigentas Liutauras Janušaitis)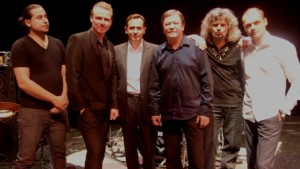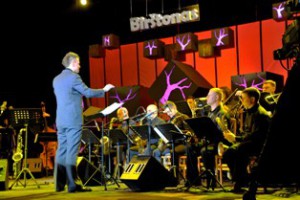 Dainiaus Pulausko Grupė (DPG):
Dainius Pulauskas – keyb
Valerijus Ramoška – tp, flgh
Kęstutis Vaiginis – saxes, fl
Domas Aleksa – bg
Linas Būda – dr
"Taip dar negrojome", – teigia projekto įkvėpėjai – muzikos autorius Dainius Pulauskas ir dirigentas Liutauras Janušaitis. Du patyrę šalies džiazo kolektyvai – DPG ir Kauno bigbendas – Birštono scenoje pirmą kartą gros kartu šia proga DPG lyderio sukurtą kompoziciją "Pro et Contra".
Tai svarbus įvykis šalies džiazo gyvenime, nes Lietuvoje retai sulaukiame originalios bigbendo muzikos lietuviškų premjerų.
Parengti autorinę šio žanro programą – sena Dainiaus Pulausko svajonė. Šis produktyvus kompozitorius yra parašęs bigbendamas nedidelių kūrinių, tarp jų – ir pjesę Kauno džiazo orkestrui. Tačiau solidi daugiadalė kompozicija, anot jo, teikia kur kas daugiau erdvės kūrėjo vaizduotei, juolab prie bigbendo prisijungus įgudusių improvizuotojų kolektyvui.
Kita vertus, klausydamasi kompozicijos "Pro et Contra" publika lengvai atpažins Dainiaus Pulausko braižą – tai kontrastingų nuotaikų, kupina "world music" spalvų, džiazroko energijos ir improvizacinio polėkio siuita. Be to, joje autorius panaudojo kai kurias savo ankstesnių kūrinių temas.
Dainiaus Pulausko Grupės (DPG) vardu nuo 2004-ųjų prisistatomi klavišininko, kompozitoriaus, aranžuotojo Dainiaus Pulausko įvairios sudėties kolektyvai, atliekantys išimtinai lyderio muziką.
Pirmoji Dainiaus grupė – džiazo kvintetas – debiutavo lygiai prieš 20 metų Birštono festivalio scenoje, o 1996-aisiais pirmąjį savo pasirodymą čia surengė ir klavišininko suburtas sekstetas, tapęs vienu labiausiai žinomų pasaulyje lietuviško džiazo kolektyvų. 2001 metais sekstetas pelnė Lietuvos muzikų sąjungos "Auksinį diską", skiriamą geriausiems šalies metų muzikantams. 2004-aisiais jam buvo įteiktas Lietuvos instituto apdovanojimas "LT tapatybė" už lietuvių džiazo populiarinimą pasaulyje.
DPG įvairios sudėtys apkeliavo jau daugiau kaip 100 džiazo festivalių keturiuose žemynuose – prisistatė daugybėje Europos šalių, tarptautiniuose džiazo festivaliuose Kinijoje, Indijoje, Malaizijoje, Indonezijoje, Etiopijoje, JAV, Kanadoje. Pernai DPG debiutavo prestižiniuose Keiptauno (Pietų Afrikos Respublika), Otavos ir Londono džiazo festivaliuose.
Dainius Pulauskas – vienas kūrybingiausių ir aktyviausių Lietuvos džiazo meistrų. Maestro kūryba įamžinta 13 autorinių albumų, dviejuose autoriniuose DVD, 9 džiazo rinkiniuose. Ji imponuoja autoriaus gebėjimu meistriškai derinti akustinius ir elektroninius tembrus, konstruktyvumą ir improvizacinį polėkį. "Dainius Pulauskas yra neabejotinai vienas įdomiausių Europoje "fusion" džiazo kompozitorių. Jo grupei tenka išskirtinė vieta progresyvaus Europos " fusion" džiazo scenoje", – rašo "Allaboutjazz.com".
Su DPG muzikas pristatė jau ne vieną didelės formos kūrinį: 2005-aisiais su Gintaro Rinkevičiaus diriguojamu Lietuvos valstybiniu simfoniniu orkestru atliko savo Siuitą džiazo grupei ir simfoniniam orkestrui, pernai nėrė į "world" muzikos stichiją siuita"Džiazas aplink pasaulį".
Įdomių projektų Dainius yra parengęs ir su trimitininku Valerijumi Ramoška, trio su pripažintais Estijos ir Latvijos džiazo meistrais – Toivo Untu bei Mariu Briezkalniu, taip pat su liaudies dainų atlikėja Veronika Povilioniene, tautiška kapelija "Sutaras", Čiurlionio kvartetu.
Klavišininkas yra surengęs solinių pasirodymų tarptautiniuose Liepojos ir Prahos džiazo pianistų festivaliuose, Lietuvos nacionalinėje filharmonijoje. Jis kuria muziką teatrui, nuolat dalyvauja televizijos projektuose su LRT grupe, aranžuoja jiems muziką.
Dainius Pulauskas dalyvavo bendruose tarptautiniuose projektuose su muzikantais iš JAV, Prancūzijos, Izraelio, Japonijos, Korėjos, Filipinų, Italijos, Suomijos, Vokietijos, Rusijos ir kitų šalių.
Jis yra apdovanotas "Bravo" prizu (1999 m.) geriausiam metų Lietuvos džiazo muzikantui, tarptautinio "Yesterday" konkurso Piarnu (Estija) Didžiuoju prizu (1999 m.) už geriausią J.Lennono ir P.McCartney dainos aranžuotę, Birštono džiazo festivalio Didžiuoju prizu (2000), "Vilnius Jazz" apdovanojimu už nuopelnus Lietuvos džiazui (2010).
Valerijus Ramoška – nuolatinis Dainiaus Pulausko grupių narys. Jis parengė ne vieną duetų programą su šiuo klavišininku bei Egidijumi Buožiu, yra išleidęs su abiem partneriais albumų.
 Trimitininkas yra Kauno bigbendo artistas, groja kaip solistas su kitais šalies bigbendais, muzikuoja įvairių sudėčių kameriniuose ansambliuose, dalyvauja LRT grupės projektuose. Jis parengė džiazo baladžių programą su Lietuvos kameriniu orkestru ir dainininke Rūta Ščiogolevaite, įamžino ją kompaktinėje plokštelėje ir DVD. Valerijus taip pat dalyvauja šiuolaikinės akademinės muzikos projektuose.
 Birštono festivalyje alikėjas nuolat pasirodo su įvairiais kolektyvais, yra čia pristatęs ir savo studentus, kuriems dėsto trimitą ir džiazo improvizaciją Vilniaus kolegijoje. Valerijus Ramoška taip pat ugdo džiazo jaunimą Vilniaus Balio Dvariono dešimtmetėje muzikos mokykloje.
 Trimitininkas bendradarbiavo su visais Lietuvos džiazo korifėjais, tarp jų – Vladimiru Čekasinu, Vladimiru Tarasovu, Liudu Mockūnu, Petru Vyšniausku, Vytautu Labučiu, Skirmantu Sasnausku, Leonidu Šinkarenka.
Kęstutis Vaiginis – daugybės tarptautinių projektų įkvėpėjas ir lyderis. Kaip kompozitorius atsiskleidė dar studijuojant Lietuvos muzikos ir teatro akademijoje, "Prince Claus Conservatoire" bei Amsterdamo aukštojoje menų mokykloje (Olandija), tobulinantis Manheteno muzikos mokykloje Niujorke.
Nuo tada saksofonus ir fleitą pučiantis muzikas su įvairiais kolektyvais atlieka savo muziką Lietuvoje ir užsienyje. Ji jau skambėjo Olandijoje, Ispanijoje, Prancūzijoje, JAV, Vokietijoje, Lenkijoje, Turkijoje, Brazilijoje, Azerbaidžane, Gruzijoje, Baltarusijoje.
 Studijų metais Kęstutis ėmė rašyti muziką ir bigbendams. 2008-aisiais jis buvo subūręs Lietuvoje nepriklausomą jaunimo bigbendą "Independent Artists Ensemble". Pernai muzikas grojo savo kompozicijas su Vokietijos valstybiniu jaunimo džiazo orkestru. Šį koncertą iš Nacionalinės filharmonijos tiesiogiai transliavo LRT "Klasikos", "Kultūros" bei "Eurovizijos" kanalai. Jame apsilankė Vokietijos prezidentas Joachimas Gauckas, įteikęs Kęstučiui Vaiginiui Europos kultūros fondo "Europamusicale" prizą, kartą per metus atitenkantį vienam Europos muzikantui.
Daugelio respublikinių ir tarptautinių konkursų laureatas, Biržtono džiazo festivalio Didžiojo prizo laimėtojas (2010 m.) Kęstutis Vaiginis yra vienas gabiausių ir produktyviausių lietuvių džiazo kūrėjų. Jis dalyvauja ir kitų žanrų muzikos projektuose, pasirodė šiuolaikinės muzikos festivalyje "Gaida".
Tarp buvusių ir dabartinių šio muzikanto scenos partnerių – įvairių šalių džiazo korifėjai: Barbara Dennerlein, Hernanas Romero, Edas Howardas, Adamas Cruzas, Randalas Corsenas, Bilalas Karmaranas, Burakas Bedikyanas, Caneras Kaptanas, Herbie Kopfas, Joonas Haavisto, Denisas Paškevičius, Indonezijos, Korėjos, Italijos muzikantai. Atlikėjas yra Lietuvos, Latvijos ir Estijos muzikantų kvarteto "Tree Stones" bei Dainiaus Pulausko grupės narys.
Su įvairiais kolektyvais kaip grupės lyderis ir kviestinis artistas Kęstutis pasirodė "Nord Sea Jazz", Roterdamo (Olandija), Londono (Jungtinė Karalystė), Otavos (Kanada), Keiptauno (Pietų Afrikos Respublika), Stambulo (Turkija), Honkongo ir kituose prestižiniuose džiazo festivaliuose, gastroliavo Malaizijoje. Saksofonininkas yra nuolatinis Lietuvos džiazo festivalių dalyvis.
 Atlikėjo diskografijoje – jau trys autoriniai albumai, jo kompozicijos įtrauktos ir į kelis lietuviškos muzikos rinkinius. "Jo vizija – subtili ir provokuojanti, kylanti iš pagarbos tradicijai, tačiau visada žvelgianti pirmyn" – taip Kęstučio albumą "Unexpected Choices", įrašytą su pripažintais Niujorko muzikantais, apibūdino žymus amerikiečių saksofonininkas Steve'as Wilsonas.
Domas Aleksa – vienas talentingiausių jaunosios kartos bosininkų ir džiazo kūrėjų. Jis įsiliejo į DPG 2012 metais, pakeitęs ilgametį grupės narį Leonidą Šinkarenką. Iki tol atlikėjas daugiausiai reiškėsi klubinės muzikos scenoje, pagarsėjo kaip grupių "Brassbastardz", "Skamp", "Guerila Jazz.lt", "A.I.R.", "Groovy Taxi" bosininkas. 2004 metais Domas subūrė savo grupę "D'Orange", išleido su ja autorinį albumą.
Lietuvos roko ir metalo scenos veteranas būgnininkas Linas Būda džiaze reiškiasi daugiau kaip du dešimtmečius. D.Pulausko grupėse jis groja nuo 1994-ųjų, yra stabilus jų narys, tarptautinių gastrolių dalyvis. L.Būda taip pat dalyvauja LRT grupės projektuose.
KĮ ,,KAUNO SANTAKA" Kauno bigbendas susikūrė 1991 metais. Viena ryškiausių jo veiklos krypčių – projektai su įdomiais kviestiniais artistais.
Lietuvių publikai orkestras savo programose pristatė daug užsienio korifėjų, tarp jų – Suomijos džiazo kūrėjus Eeero Koivistoineną ir Jukką Linkolą, švedų trimitininką Lasse Lindgreną, JAV džiazo kompozitorių Franko Mantoothą, trimitininką Randy Breckerį, trombonininką Jiggsą Whighamą, saksofonininką ir kompozitorių Bobą Mintzerį, vokiečių vargonininkę Barbarą Dennerlein, prancūzų akordeonistą Richard'ą Galliano.
Bigbendas daug dėmesio skiria ir edukacinei veiklai, rengia "Džiazo pamokų" ciklą vaikams ir jaunimui.
Su kolektyvu muzikavo beveik visi žymiausi Lietuvos džiazo meistrai, taip pat Lietuvos
---
DAINIUS PULAUSKAS GROUP AND KAUNAS BIG BAND
(conductor Liutauras Janušaitis)
Dainius Pulauskas Group (DPG):
Dainius Pulauskas – keyb
Valerijus Ramoška – tp, flgh
Kęstutis Vaiginis – saxes, fl
Domas Aleksa – bg
Linas Būda – dr
"We have never played this way", admit the inspirers of the project – Dainius Pulauskas, the composer of the music performed, and Liutauras Janušaitis, the conductor. Two seasoned Lithuanian jazz collectives – DPG and Kaunas Big Band – will make their collaboration debut and premiere DPG leader's Pro et Contra, the composition written for this occasion.
 And that is a significant event in Lithuanian jazz life, for it is not so often that we are witnesses of Lithuanian premieres of original compositions for big band.
 To produce original big band programme was Pulauskas' old dream. This prolific composer has written small-scale compositions for big band including a piece for Kaunas Big Band. However, a substantial composition consisting of several movements, according to him, provides considerably more room for imagination especially in this case when skilful improvisers will join the big band.
 On the other hand, in Pro et Contra the audience will easily recognise Pulauskas' vocabulary – it is a suite featuring contrastive moods, elements of world music, jazz-rock energy and improvisational aspect. In addition, in it the composer has recycled themes from his earlier compositions.
Since 2004, the Dainius Pulauskas Group (DPG) has become an umbrella-title for various formations led by the notable figure of Lithuanian jazz – a keyboardist, composer and arranger. DPG performs exclusively Pulauskas' music.
 Pulauskas made his Birštonas Jazz Festival debut as a leader of his first group – Quintet – exactly 20 years ago. In 1996, the same stage saw the debut of his Sextet, which became one of the leading and most widely internationally recognised Lithuanian jazz collectives. In 2001, the Sextet was the first jazz ensemble to receiveGold Disc awarded to the best musician of the year by the Lithuanian Musicians' Union. In 2004, the Lithuanian Institute presented the ensemble with LT tapatybė (LT Identity) award for promulgation of Lithuanian jazz.
 Various formations of DPG have appeared in more than 100 jazz festivals in four continents – performed around Europe, international jazz festivals in China, India, Malaysia, Indonesia, Ethiopia, the USA, and Canada. Last year DPG made its debut in prestigious jazz festivals in Cape Town (Republic of South Africa), Ottawa and London.
Dainius Pulauskas is one of the most productive and active Lithuanian jazz masters. His music can be heard on thirteen personal CDs, two personal DVDs, and nine jazz collections. He excels in combining acoustic and electronic timbres, constructivism and improvisation. "Pulauskas is without a doubt, one of the most interesting composers at the fusion end of European jazz. His group deserves to be placed at the forefront of progressive European jazz-fusion", wrote Allaboutjazz.com.
 With DPG the musician presented a number of large-scale compositions: in 2005 together with the Lithuanian State Symphony Orchestra led by Gintaras Rinkevičius he performed his Suite for jazz group and symphony orchestra, last year with his Jazz Around the World he delved into world music realm.
 Pulauskas also works with trumpeter Valerijus Ramoška, plays as a trio with renowned Estonian and Latvian jazz masters – Toivo Unt and Maris Briezkalns, collaborates with folk singer Veronika Povilionienė, Sutaras folk music group, andČiurlionis Quartet.
 The keyboardist has appeared in international jazz piano festivals in Liepaja and Prague, performed at the Lithuanian National Philharmonic. He writes music for theatre, takes part in TV projects with the LRT group for which he also arranges music.
 In international projects Pulauskas teamed up with musicians from the USA, France, Israel, Japan, Korea, Philippines, Italy, Finland, Germany, Russia, etc.
 He has earned a number of awards: Bravo (1999) for the best Lithuanian jazz musician; Grand Prix for the best arrangement of Yesterday by Lennon and McCartney at the International Competition Yesterday Pärnu'99 (Estonia); Grand Prixat the Birštonas Jazz Festival (2000), Vilnius Jazz award for contributions to Lithuanian jazz (2010).
Valerijus Ramoška is a long-time member of Pulauskas' groups. He has given a great deal of duo programmes as well as recorded albums with Pulauskas and Egidijus Buožis.
 The trumpeter has collaborated with Vladimir Chekasin, Vladimir Tarasov,
Liudas Mockūnas, Petras Vyšniauskas, Vytautas Labutis, Skirmantas Sasnauskas, Leonid Shinkarenko among other Lithuanian jazz luminaries. He also plays as a soloist with the leading Lithuanian big bands, performs in various chamber formations, takes part in the LRT group's projects.
Kęstutis Vaiginis, an initiator and leader of a number of international projects, revealed his compositional talent while still a student at the Lithuanian Academy of Music and Theatre, the Prince Claus Conservatorium and Amsterdam School of the Arts (the Netherlands), as well as Manhattan School of Music in New York.
 Since then, as a member of various collectives the saxophonist (and flutist) performed his compositions not only in Lithuania, but also the Netherlands, Spain, France, the USA, Germany, Poland, Turkey, Brazil, Azerbaijan, Georgia and Belarus.
 During his study years Vaiginis started composing for big bands as well. In 2008, he formed Independent Artists Ensemble, a Lithuanian youth big band. Last year the musician performed his compositions with German State Youth Jazz Orchestra. Held at the National Philharmonic Hall this concert was broadcast live on LRT Klasika,Kultūra and Eurovision channels. Joachim Gauck, President of the Federal Republic of Germany, was present at the concert and awarded Vaiginis European Culture Foundation's Europamusicale Music Prize, which annually is given to one European musician.
 Winner of many national and international competitions and recipient of Grand Prix of Birštonas Jazz Festival (2010), Vaiginis is one of the most gifted and productive Lithuanian jazz musicians. He also takes part in projects of various other genres; appeared in contemporary music festival Gaida.
 The list of his former and current stage partners includes such jazz coryphées as Barbara Dennerlein, Hernan Romero, Ed Howard, Adam Cruz, Randal Corsen, Bilal Karmaran, Burak Bedikyan, Caner Kaptan, Herbie Kopf, Joon Haavisto and Deniss Pashkevich, as well as Indonesian, Korean and Italian musicians. The musician is a member of Lithuanian-Latvian-Estonian Tree Stones Quartet and Dainius Pulauskas Group.
 As a leader and guest musician of various collectives he appeared in prestigious festivals including Nord Sea Jazz (Rotterdam, the Netherlands), London (UK), Ottawa (Canada), Cape Town (Republic of South Africa), Istanbul (Turkey) and Hong Kong to name but a few, toured in Malaysia. The saxophonist regularly takes part in Lithuanian jazz festivals.
 His discography amounts to three personal albums; his compositions were included in several Lithuanian music collections. "His vision is wide-ranging from the subtle to the provocative, rooted in an appreciation of tradition and yet looking forward", said Steve Wilson, an illustrious American saxophonist, about Vaiginis' Unexpected Choices recorded with acclaimed New Yorkers.
Domas Aleksa is one of the most promising bassists and jazzmen of younger generation. He joined DPG in 2012 replacing Leonid Shinkarenko, a long-time member of the group. Formerly Aleksa was mostly active on club music scene, made his name as a bassist of Brassbastardz, Skamp, Guerila Jazz.lt, A.I.R. and Groovy Taxi. In 2004, he formed his own group D'Orange with which he also recorded an album.
 Linas Būda, a seasoned rock and metal drummer, has been appearing on jazz scene for more than two decades. Since 1994, he has been a member of Pulauskas' groups, participant of international tours. He also works with the LRT group.
 Kaunas Big Band was formed in 1991. Collaboration with interesting foreign guest musicians is one of the main objectives of the Big Band.
 Lithuanian audience was introduced to many international jazz coryphées such asFinnish jazz composers Eeero Koivistoinen and Jukka Linkola, Swedish trumpeter Lasse Lindgren, American jazzman Franko Mantooth, trumpeter Randy Brecker, trombonist Jiggs Whigham, saxophonist and composer Bob Mintzer, German jazz organist Barbara Dennerlein, and French accordionist Richard Galliano.
 The Big Band invests good deal of energy into educational projects, organises Jazz Lessons, a unique educational series for children and young people.
 Kaunas Big Band has collaborated with almost all Lithuanian jazz masters, as well as the Lithuanian National Symphony Orchestra and Amsterdam Chamber Choir. It has represented Lithuania in Finland, Sweden, Norway, Poland, the Netherlands, Latvia, Russia, Belarus and Estonia.
 In 2006, for its achievements the Lithuanian Musicians' Union presented the Big Band with Gold Disc.
 The Big Band's late leader Romualdas Grabštas (1943–2009), who stood at the helm for 18 years, shaped its image and formed its traditions. In 2010, Arvydas Butas was appointed its official leader. However, the founder's aspirations were for a while pursued by Skirmantas Sasnauskas and Tomas Botyrius.
 Since 2012, Liutauras Janušaitis has served as the Big Band's conductor. Under his baton the orchestra has collaborated with American, Cuban and Spanish performers.
 Last autumn saxophonist and composer Liutauras Janušaitis also joined DPG, with it participated in Ottawa and London jazz festivals, toured in Slovakia and Turkey.
 In the previous Birštonas Jazz Festival the Kaunas Big Band presented a programme of his original compositions.
 Janušaitis is the first Lithuanian to graduate from Berkelee College of Music in Boston, the American jazz smithy (2011). Before the musician has studied under Petras Vyšniauskas at the Lithuanian Academy of Music and Theatre.
 Janušaitis has appeared with a many Lithuanian jazz, funk and pop music group including UAB Music, Groovy Taxi, Saulės kliošas, A.I.R., Skamp, InCulto, D'Orange; also arranged for them. He was among the founders of the first salsa orchestra in Lithuania; formed groups Resound, Certain Case and LJ Electrobop Trio. With various collectives Janušaitis took part in Vilnius, Kaunas, Birštonas and other jazz and contemporary music festivals, performed in Western Europe, Baltic States, Russia, Japan and the USA.
 While studying in the USA, together with his schoolmates from Brazil, US and Japan the musician recorded his first personal album Electric Sketches. Presently he is in the process of recording his second CD with Scandinavian, Estonian, Lithuanian jazz masters and Kaunas Vytautas Magnus University Chamber Orchestra. The saxophonist also works with other collectives, regularly collaborates with Japanese musicians.