(Lietuva)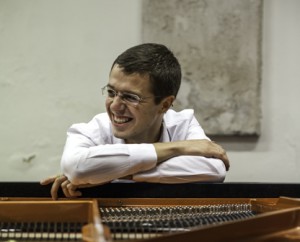 Dmitrijus Golovanovas – p
 Vienas įdomiausių ir aktyviausių jaunosios kartos Lietuvos džiazo pianistų Dmitrijus Golovanovas jau daugiau kaip dešimtmetį dalyvauja šalies džiazo gyvenime, nuo 2001-ųjų sėkmingai pasirodo nacionaliniuose ir tarptautiniuose konkursuose.
 2007-aisiais muzikas laimėjo "Vilnius Jazz Young Power" konkurso Didįjį prizą, po metų tapo tarptautinio "Džiazo improvizacijos" konkurso Vilniuje nugalėtoju, pernai – Europos džiazo konkurso Roterdame finalininku.
 Skiriamieji šio atlikėjo bruožai – universalumas ir kūrybingumas. Dmitrijus puikiai išmano džiazo tradicijas ir noriai reiškiasi už jų ribų – nardo po laisvojo džiazo stichiją, eksperimentuoja elektroakustinėje muzikoje.
 Džiazo pagrindus Dmitrijus Golovanovas įgijo Lietuvos muzikos ir teatro akademijoje, be to, stažavosi Leipcigo F.Mendelssohno-Bartholdy aukštojoje muzikos ir teatro mokykloje. Pianisto įgūdžiai, jo raiški, melodinga frazuotė imponuoja Lietuvos ir užsienio džiazo meistrams, įtraukusiems Dmitrijų į daugybę projektų.
 Jis bendradarbiavo su broliais Briliais (Rusija), Annie Kierulff bei Andersu Anderssonu (Danija), yra Liudo Mockūno grupės "NuClear" narys, muzikuoja duete "Infiltrators" su Janu Maksimovičiumi, tarptautiniuose kolektyvuose "Beat Freisen Spelunkenorkester" (Vokietija-Lietuva-Taivainas) ir "Swilit" (Šveicarija-Lietuva).
 2012 metais Dmitrijus kartu su saksofonininku Kęstučiu Vaiginiu įkūrė Lietuvos, Latvijos ir Estijos muzikantų džiazo kvartetą "Tree Stones", su kuriuo intensyviai gastroliuoja, rašo jam muziką.
 Dėl gausių koncertų pianistui netgi teko apriboti pedagoginę veiklą Lietuvos muzikos ir teatro akademijoje, kur jis dirba nuo 2007-ųjų, o pastaruoju metu vadovauja ir LMTA bigbendui.
 Su įvairiomis grupėmis Dmitrijus Golovanovas koncertavo daugelio Europos šalių džiazo festivaliuose, tarp jų – "London Jazz" (Didžioji Britanija), "Pori Jazz" (Suomija), "Brugge Jazz" (Belgija), "MOL Jazz" (Vengrija), "Leipzig Jazz"  ir "Jazz in Semper Opera" (Vokietija), "Jazz Jamboree"(Lenkija) , taip pat Šlėzvigo-Holšteino festivalyje Vokietijoje, Graikijoje, Ispanijoje, Gruzijoje, Ukrainoje, Baltarusijoje, Latvijoje, Estijoje.
 Birštono publiką Dmitrijus supažindins su praėjusį mėnesį išleisto savo pirmojo solinio albumo "Me" kompozicijomis bei naujesniais, dar neatliktais kūriniais. Šį albumą autorius vadina užfiksuotu kūrybos procesu, mat jame originalios kompozicijos labai organiškai susipina su laisvosiomis improvizacijomis.
 Vis dėlto gyvo muzikavimo akimirkų, kai publiką su atlikėju susieja trapi kūrybos čia ir dabar gija, pianisto įsitikinimu, neatstos joks įrašas.
---
DMITRIJ GOLOVANOV
(Lithuania)
Dmitrij Golovanov – p
Dmitrij Golovanov, one of the most interesting and dynamic Lithuanian jazz pianists of younger generation, has been active on Lithuanian jazz scene for more than a decade. Since 2001, he has been gaining recognition in national and international competitions.
 In 2007, the musician has garnered Vilnius Jazz Young Power Grand Prix, the following year won the International Jazz Improvisation Competition in Vilnius, and last year reached the finals of the European Jazz Competition in Rotterdam.
 His distinct traits are versatility and creativity. Dmitrij is well schooled in jazz traditions and enjoys stepping beyond – he revels in free jazz, experiments with electro-acoustic music.
 Golovanov got jazz basics at the Lithuanian Academy of Music and Theatre, later furthered his education in Mendelssohn-Bartholdy University of Music and Theatre in Leipzig. The pianist's skills, his expressive and melodious phrasing appeal to Lithuanian and foreign jazz masters who invite Dmitrij to take part in various projects.
 He has collaborated with Brothers Briliai (Russia), Annie Kierulff and Anders Andersson (Denmark); is a member of Liudas Mockūnas' NuClear, plays in duoInfiltrators with Jan Maksimovich, partakes in international formations Beat Freisen Spelunkenorkester (Germany-Lithuania-Taiwan) and Swilit (Switzerland-Lithuania).
 In 2012, together with saxophonist Kęstutis Vaigins he formed Tree Stones jazz quartet uniting Lithuanian, Latvian and Estonian musicians. Dmitrij intensively tours with and composes for the Quartet.
 Due to rigorous concert schedule the pianist had to limit his pedagogical work at the Lithuanian Academy of Music and Theatre, where he has taught since 2007. Presently, he leads the LAMT Big Band.
 With various groups Golovanov appeared in European jazz festivals including London Jazz (Great Britain), Pori Jazz (Finland), Brugge Jazz (Belgium), MOL Jazz (Hungary),Leipzig Jazz and Jazz in Semper Opera (Germany), Jazz Jamboree (Poland) and Schleswig-Holstein festival (Germany), performed in Greece, Spain, Georgia, the Ukraine, Belarus, Latvia and Estonia.
 Dmitrij will introduce compositions from his debut solo album Me, released last month, and new yet unperformed opuses to the Birštonas audience. The pianist calls his album a documented creative process, for in it the original compositions seamlessly intertwine with free improvisations.
 And still, no recording will substitute for the moments of live music-making when the audience and performer are linked by fragile string of 'here and now', says Dmitrij.