GROUP CASTOR  STETSON
(LEAD. DEIMANTAS BALYS)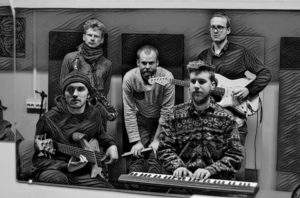 Deimantas Balys – g
Arnas Mikalkėnas – p
Kazimieras Jušinskas – saxes
Nojus Drąsutis – b
Domantas Razmus – dr
Formed by Deimantas Balys in 2016, today Castor Stetson is one of the most promising groups of young generation jazz musicians in Lithuania. For two years it was known as D. Jurevi
ius Group and during that time it has appeared in many music festivals including Vilnius Mama Jazz, Vilnius Jazz, Elektrėnai Jazz Festival and Freedom Jazz Festival (Poland).
In 2018, the band won the Grand Prix of the Vilnius Jazz Young Power (VJYP) competition. Last year Castor Stetson held a concert tour around the Baltics and released their first album, Captured Music, featuring Balys' compositions.
The group performs only original compositions merging various styles and modern jazz vocabulary. The members of the quintet are united by their creativity and atypical attitude towards music and the environment.
Deimantas Balys studied at the Vilnius Conservatoire, the Royal Academy of Music in Aalborg (Denmark), continued his education in the Department of Rhythmic Music at the University of Applied Sciences in Vilnius, and last year graduated from the Lithuanian Academy of Music and Theatre (LAMT), where he earned a Master Degree in Contemporary Music and Free Jazz.
The guitarist has played in a variety of bands including Soul Syrup, Such'a'Trip, TribalVibe, Diama, Maneuver and VR Quartet. But Castor Stetson is his most significant project.
Deimantas has participated in Kaunas Jazz, Vilnius Mama Jazz, PIN Days, Druskomanija, Ariogala Jazz festivals in Lithuania, Saeby Jazzfestival in Denmark and Freedom Jazz Festival in Poland, as well as in the concert series in the Baltic States.
Arnas Mikalkėnas – see p.
Kazimieras Jušinskas became infected with jazz at the Vilnius Conservatoire. He furthered his education at the Jazz Department and Contemporary Music Department in the LAMT.
The saxophonist takes active part in Lithuanian jazz festivals with groups Brave Noises and Džiazlaif (has won Grand Prix at the VJYP competition with both of them), collaborates in interdisciplinary projects. He also is a member of The Septet and Katarsis4 saxophone quartet.
Nojus Drąsutis drew attention to himself while still at the Balys Dvarionas Music School, where he played in jazz ensemble coached by saxophonist Vytautas Labutis. With this ensemble he made appearances in jazz festivals in Lithuania.
The bassist also earned first prizes in international jazz competition Don Chento Jazz in Kaliningrad and an international competition Music Without Borders where he appeared with jazz ensemble led by Olegas Molokojedovas. His guitar is heard on the ensemble's CD.
"Made in 234", a group which he formed with four schoolmates, captured Grand Prix in the VJYP competition 2014 and the following year garnered the main prize in student jazz competition in Târgu Mureș (Romania).
Drąsutis also plays in Labutis' Silent Blast. He has appeared in almost all main jazz festivals in Lithuania and Saulkrasti Jazz in Latvia.
Domantas Razmus earned Bachelor Degree in Jazz from the Lithuanian Academy of Music and Theatre in 2017. Since 2012, he has regularly collaborated with renowned Lithuanian jazz masters and representatives of other genres including Dmitrij Golovanov, Kęstutis Vaiginis, Vytis Nivinskas, Vytis Smolskus, Arman Isojan and Klaudijus Štuopinis. 
In 2012, as a member of R.A.D.D. Razmus won Grand Prix at the Vilnius Jazz Young Power competition, and in 2016 claimed the same award with TDT. In 2017, he garnered first prize at the Tamsta Drumday competition. In 2016, he joined Cinamon jazz quintet with which he performed in Lithuania and Germany.
The drummer has accumulated an extremely wide pool of expression means. His vocabulary includes elements of pop-, funk and fusion, traditional jazz, hard rock and punk rock. Occasionally he tries his hand in avant-garde and free jazz experiments.