GRUPĖ HEAVY BEAUTY
(Estija – Lietuva)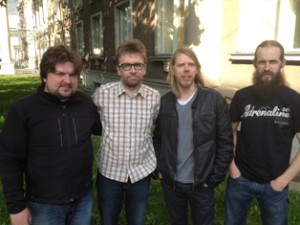 Liudas Mockūnas – bs
Jaak Sooäär – g
Henno Kelp – bg
Andrus Lillepea – dr
Du studijų draugai, seni scenos partneriai  lietuvių saksofonininkas Liudas Mockūnas ir estų gitaristas Jaakas Sooääras bei du Estijos roko vilkai – bosininkas Henno Kelpas ir būgnininkas Andrusas Lillepea – šiame projekte įkūnija improvizacinės muzikos ir sunkiojo roko sąjungą.
Neįprasto kvarteto muzikos centras – džiaze retai skambantis bosinis saksofonas. Liudas Mockūnas juo geba virpinti jautriausias sielos stygas ir pažadinti mumyse tūnančius demonus.
Liudas Mockūnas – yra vienas ryškiausių Lietuvoje šiuolaikinio džiazo bei improvizacinės muzikos atstovų, įsiveržęs į pasaulio improvizacinės muzikos korifėjų orbitą. Pastaruoju metu labai palankių įvertinimų sulaukė jo pasirodymai su britų improvizacinės muzikos legenda kontrabosininku Barry Guy, vienu novatoriškiausių savo kartos JAV būgnininkų Williamu Hookeriu, iškiliu "free" džiazo saksofonininku Evanu Parkeriu.
Baigęs Lietuvos muzikos ir teatro akademiją bei Kopenhagos ritminės muzikos konservatoriją, Liudas iš karto ėmė aktyviai reikštis Europos improvizacinės muzikos scenoje. Šiuo metu jis yra trio "Nuclear" ir "Traffic Trio" lyderis, tarptautinių džiazo kolektyvų "Toxikum", elektroakustinio trio "Red Planet", "Copenhagen Art Ensemble", "Pasborg's Odessa 5", "Free Moby Dick", Mikko Innaneno "Inkvistio", Vladimiro Tarasovo trio narys.
 Muzikas groja duetuose su Marcu Ducret ir Ryoji Hojito, Petru Geniušu, Vladimiru Tarasovu, Artūru Bumšteinu, bendradarbiauja su Jacobu Anderskovu, Nilsu Davidsenu, Matsu Gustaffssonu, Vladimiru Čekasinu, Arkadijumi Gotesmanu, Matsu Eilertsenu, Marku Solborgu, Jonasu Westergaardu, Jakobu Riisu, Jaaku Sooaaru ir daugybe kitų įdomių džiazo kūrėjų.
 Atlikėjas dalyvavo Pierre'o Dorge ir jo "New Jungle Orchestra", Andrew Hillo "Jazz Par" okteto, "Ibrahim Electric", "Markus Pesonen Handenctet", "Free Tallin Trio", Hugo Carvalhais "Nebulosa" bei kitų novatoriškų kolektyvų programose.
 Liudas Mockūnas yra žinomas ne tik kaip improvizacinės muzikos bei avangardinio džiazo atstovas, bet ir kaip šiuolaikinės akademinės muzikos atlikėjas. Jo repertuare – akademinės muzikos kūrėjų Broniaus Kutavičiaus, Anatolijaus Šenderovo, Arvydo Malcio, Viačeslavo Ganelino, Dietricho Eichmanno, Vykinto Baltako, Ramintos Šerkšnytės, Giedriaus Puskunigio kūriniai.
 Saksofonininkas yra šiuolaikinės muzikos ansamblių "Gaida" ir "Konvoj Art" narys. Jis koncertavo kaip solistas su "Kralovy Hradec Symphony Orchestra" (Čekija) , Lietuvos valstybiniu bei Nacionaliniu simfoniniais orkestrais, Šv.Kristoforo ir Klaipėdos kameriniais orkestrais, styginių kvartetu "Chordos". 2013 metais išleido su pianistu Petru Geniušu M.K.Čiurlionio fortepijoninių preliudų originalių interpretacijų albumą "Jūra Miške".
 Su įvairiais kolektyvais pučiamųjų virtuozas pasirodė daugelyje prestižinių Europos džiazo festivalių, gastroliavo JAV, Kinijoje, Japonijoje, Izraelyje.
 Liudas Mockūnas yra vienas Lietuvos džiazo federacijos atkūrėjų ir puikiai pasaulyje vertinamos lietuviškos įrašų kompanijos "NoBusiness Records" steigėjų. Atlikėjo diskografiją sudaro apie 50 albumų.
 Liudo Mockūno meistriškumas yra įvertintas Lietuvos, Latvijos, Danijos ir Prancūzijos džiazo konkursų premijomis, džiazo festivalių "Vilnius Jazz" ir "Birštonas", dienraščio "Lietuvos rytas" prizais bei Lietuvos muzikų sąjungos "Auksiniu disku". 2011 metais jam įteiktas Lietuvos teatralų apdovanojimas "Auksinis scenos kryžius" už muziką dramos spektakliui "Prakeiktieji" pagal O'Oneillo pjesę "Gedulas tinka elektrai" (režisierius A.Areima) OKT teatre.
 Šiuo metu Liudas Mockūnas yra Lietuvos muzikos ir teatro akademijos bei KaunoVytauto Didžiojo universiteto džiazo katedrų docentas.
Jaakas Sooääras ėmė bendradarbiauti  su Liudu Mockūnu dar 10 dešimtmečio pabaigoje  Kopenhagos ritminės muzikos konservatorijoje. Jis, kaip ir Liudas, yra vienas aktyviausiai koncertuojančių Europos džiazo scenose Baltijos šalies atstovų.
2001-aisiais baigęs Kopenhagos konservatoriją, Jakas pradėjo dėstyti gitarą Estijos muzikos ir teatro akademijos džiazo katedroje, 2004 metais tapo Katedros vedėju.
Estijos džiazo ir popmuzikos scenoje Jaakas Sooääras žinomas jau daugiau kaip 20 metų. Jam teko muzikuoti ir su daugybe tarptautinio kalibro improvizuotojų, tarp jų – Ray Andersonu, Conny Baueriu, Hanu Benninku, Raouliu Björkenheimu, Ericu Brochardu, Gavinu Bryarsu, Kentu Carteriu, Pierre'u Dørge, Andersu Jorminu, Dave'u Kikoski, Joelle Léandre, Dave'u Liebmanu, Joe Lovano, Ramonu Lopezu, Ronu McClure'u, Petru Vyšniausku.
Jaakas yra tarptautinių kolektyvų "The Dynamite Vikings", "Dessert Time", "Mockūnas-Pasborg Project", "Almost Zebra" narys. Jis pelnė tarptautinių  improvizacijos konkursų Estijoje ir Prancūzijoje laurus.
Gitaristas gastroliavo su Europos džiazo jaunimo orkestru ("The European Jazz Youth Orchestra"), Europos transliuotojų sąjungos bigbendu ("The EBU Big Band"), grojo solo su Vakarų Vokietijos radijo bigbendu ("WDR Big Band").
Viena Jaako Sooääro estiškų grupių – "Eesti Keeled" – du kartus pelnė Estijos muzikos apdovanojimą kaip geriausas etnomuzikos kolektyvas. Jaakas Sooääras yra apdovanotas Estijos džiazo bei Estijos kultūros fondo prizais.
Henno Kelpo ir Andruso Lillepea keliai dažnai susikerta. Abu jie yra tarp labiausiai užimtų Estijos roko muzikantų ir groja ne vien metalą – mėgsta projektus su improvizaciniu užtaisu. Tokių grupių jų biografijoje buvo ne viena. 2008-aisiais tandemas įkūrė didelio populiarumo sulaukusį kvartetą "The Limited Edition".
---

GROUP HEAVY BEAUTY
(Estonia – Lithuania)

Liudas Mockūnas – bs
Jaak Sooäär – g
Henno Kelp – bg
Andrus Lillepea – dr

Two study mates and long-time stage partners Lithuanian saxophonist Liudas Mockūnas and Estonian guitarist Jaak Sooäär as well as two Estonian old hands at rock Henno Kelp and Andrus Lillepea embody the combination of improvised music and hard rock in this project.
 Bass saxophone, rarely heard in jazz, takes the centre in this unusual Quartet. With this instrument Mockūnas is capable of striking our deepest strings and awakening demons hiding in us.
Liudas Mockūnas – one of the most creative representatives of the Lithuanian contemporary jazz and improvised music, is becoming a frequent visitor of the orbit of the coryphées of improvised music. Recently his appearances with double bassist Barry Guy, a British legend of improvised music, William Hooker, one of the most innovative drummers of his generation, and celebrated free jazz saxophonist Evan Parker earned outstanding reviews.
 Upon graduating from the Lithuanian Academy of Music and Theatre (LAMT) and the Rhythmic Music Conservatory in Copenhagen, he took active stance on the scene of European improvised music. Presently, he is the leader of Nuclear trio and Traffic Trio, a member of various international collectives such as Toxikum, electro-acoustic trio Red Planet, Copenhagen Art Ensemble, Pasborg's Odessa 5, Free Moby Dick, Mikko Innanen Inkvistio, and Vladimir Tarasov Trio.
 The musician plays as a duo with Marc Ducret, Ryoji Hojito, Petras Geniušas, Vladimir Tarasov and Artūras Bumšteinas, collaborates with Jacob Anderskov, Nils Davidsen, Mats Gustaffsson, Vladimir Chekasin, Arkady Gotesman, Mats Eilertsen, Mark Solborg,Jonas Westergaard, Jakob Riis, Jaak Sooäär and many other intriguing jazz musicians.
 He has taken part in programmes of Pierre Dorge and his New Jungle Orchestra,performed with Andrew Hill's Jazz Par octet, Ibrahim Electric, Markus Pesonen Handenctet, Free Tallinn Trio, Hugo Carvalhais Nebulosa and other innovative collectives.
 In addition, he is famed not only as an exponent of improvised music and avant-garde jazz, but also as an expert of contemporary academic music. His repertoire includes works by academic music composers including Bronius Kutavičius, Anatolijus Šenderovas, Arvydas Malcys, Vyacheslav Ganelin, Dietrich Eichmann, Vykintas Baltakas, Raminta Šerkšnytė and Giedrius Puskunigis.
 The saxophonist is a member of Gaida and Konvoj Art contemporary music ensembles. As a soloist he has performed with Kralovy Hradec Symphony Orchestra, the Lithuanian State Symphony Orchestra and Lithuanian National Symphony Orchestra as well as St. Christopher and Klaipėda chamber orchestras and Chordos String Quartet. In 2013, together with pianist Petras Geniušas he recorded an albumJūra Miške (The Sea in the Forest) featuring original interpretations of M.K. Čiurlionis' piano preludes.
 With various formations the reed virtuoso has appeared in prestigious European jazz festivals, toured in the USA, China, Japan and Israel.
 Mockūnas is one of the re-establishers of the Lithuanian Jazz Federation and founder of NoBusiness Records, internationally esteemed Lithuanian label. The saxophonist's discography amounts to about fifty albums.
 Mockūnas is a prize winner of various jazz competitions in Lithuania, Latvia, Denmark and France; a recipient of prizes of Vilnius Jazz and Birštonas Jazz festivals, andLietuvos rytas daily, as well as Gold Disc awarded by the Lithuanian Musicians' Union. In 2011, he was decorated with a Golden Cross of the Stage (award for achievements in Lithuanian theatre field) for the best music for theatre production Damned after O'Neill's Mourning Becomes Electra (dir. A. Areima) at the OKT.
 Currently, Mockūnas is an associate professor of the Lithuanian Academy of Music and Kaunas Vytautas Magnus University Music Academy.
Jaak Sooäär started collaborating with Mockūnas in late 90s in Copenhagen, where they studied together at the Rhythmic Music Conservatory. Like Mockūnas, he is among the most internationally active jazz musicians of the Baltics.
 After graduating from the Conservatory in 2001, he has taught guitar at the Jazz Music Department of the Estonian Academy of Music and Theatre and, since 2004, acted as the head of the department.
 Sooäär has been active on Estonian jazz and pop music scene for over two decades. He has also performed with many internationally known jazz improvisers, including Ray Anderson, Conny Bauer, Han Bennink, Raoul Björkenheim, Eric Brochard, Gavin Bryars, Kent Carter, Pierre Dørge, Anders Jormin, Dave Kikoski, Joelle Léandre, Dave Liebman, Joe Lovano, Ramon Lopez, Ron McClure and Petras Vyšniauskas.
 Sooäär is a member of several international bands including The Dynamite Vikings,Dessert Time, Mockunas-Pasborg Project and Almost Zebra. He was a prize winner in European improvisation tournaments in Estonia and France.
 The guitarist toured with The European Jazz Youth Orchestra, the EBU Big Band, performed as guest soloist with WDR Big Band (Germany).
 One of Sooäär's Estonian groups, Eesti Keeled, earned the Estonian Music Award as the best ethno/folk group both in 2003 and in 2005. Sooäär received the Estonian Annual Jazz Prize and also annual prize of the Estonian Culture Endowment.
Henno Kelp and Andrus Lillepea are among the busiest Estonian rock musicians. they both play not only metal, but also enjoy improvised music projects. Both have collaborated with a number of such groups. In 2008, the tandem formed The Limited Edition Quartet, which has earned great acclaim.