GRUPĖ SUBTILU-Z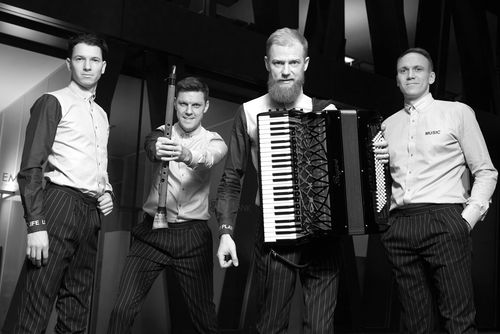 Povilas Velikis – acc
Dmitrijs Mihailovs – acc
Laurynas Vaitkus – birbynė
Vytautas Švažas – dr, perc
It is one of the most unusual bands in Lithuania, intriguing by its name, mysterious Z of which kindles the imagination of listeners. The Quartet would easily fit into music festivals of various genres simply because of their line up – it is a rarity to hear the Lithuanian national wind instrument birbynė in such a context.
The way of playing and unique timbre of this instrument lend peculiar touch to Subtilu-Z music, especially as the band's repertoire is also extremely colourful – from jazz standards, rock and pop hits to modern folklore and original compositions.
According to the members of the ensemble, the audience does not care as much about what they play as how they do it. Imagination and emotionality mark their every performance. The abundance of virtuoso passages is not important to them, although they are flawless in the most virtuoso compositions.
"Even a composition consisting of three notes can be difficult because it requires inner belief and strength to convey it. The instrument is the microphone of the soul, " said birbynė player Laurynas Vaitkus.
The musicians admit that each composition takes a long time to rehearse. They ponder over every single note until it turns into their own.
The history of the instrumental band Subtilu-Z began with the accordion duo, formed in 2005. It has grown into a quartet in three years, with the addition of birbynė and percussion. Velikis and Mihailovs not only play their instruments well, but also write original compositions.
Creative process is the life of Subtilu-Z musicians. "We improvise, we search, we try, we make mistakes, but we discover, capture and present. It's a very interesting process, it drives us forward. First, you ignore all obstacles, allow yourself everything, and then assess whether you have gone too far and, if necessary, return back. But first you have to dare to move on", Mihailovs guided through their creative laboratory.
Subtilu-Z has won prizes in national and international competitions. In 2011, the group was awarded the "Public Sympathy" prize at the Great Parade of Musicians organized by the Lithuanian Musicians' Union (LMU), and in 2019 – the LMU's "Golden Disc" award.
The band has released five albums and toured in many countries, including the United States, China, Germany, Denmark, the Netherlands, Belgium, Norway and Italy. Everywhere it excites the audience with its explosive energy and bright emotions.
Subtilu-Z came to Birštonas with the same intention – to move everyone: the motto of its program is "Turn on your life". The group will enthral the audience with their favourite and inspiring compositions by Lithuanian jazzmen Dainius Pulauskas, Remigijus Rančys, Jievaras Jasinskis and others, as well as their own original compositions.
There are no leaders in Subtilu-Z, every musician in the ensemble is unique and irreplaceable.
In 2006, Povilas Velikis graduated from the Lithuanian Academy of Music and Theatre (LAMT), where he earned the accordion performing and teaching qualifications. Since 2012, he has been teaching various disciplines at Vytautas Magnus University Music Academy in Kaunas.
Birbynė player Laurynas Vaitkus and accordionist Dmitrijs Mihailovs also graduated from the Lithuanian Academy of Music and Theatre earning performer and teacher diplomas. Both musicians teach at the Music School "Lyra" in Vilnius.
Percussionist Vytautas Švažas jokes about graduating from Subtilu-Z Academy of Music as he is a road and railway engineer and a graduate of Vilnius Gediminas Technical University. He started playing when he constructed his first drum.
"I like to get involved with something new and not very clear", admitted the musician. In his spare time, he makes various musical instruments and collects the rhythms of the world.  Despite his obsession with collectibles, he is not content with the existing collection –  sometimes plays with an axe, pots and the like.