INDRĖ DIRGĖLAITĖ IR WHITE SAND SONGS
(Lietuva-Švedija)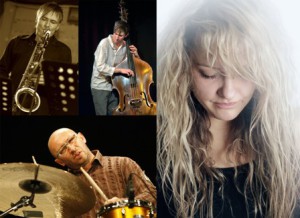 Indre Dirgelaite – voc
Liutauras Janušaitis – sax, keyb
Johan Lindbom – db
Arkadij Gotesman – perc, drums
Indrė Dirgėlaitė po šešerių metų pertraukos grįžta į Birštono festivalio sceną, šį kartą – su savo originalios muzikos programa. Tai – šiaurietiško atspalvio kompozicijos Indrės tekstais anglų kalba. Kai kurias jų dainininkė jau yra atlikusi su Skandinavijos muzikantais, o dabar pasirodymui subūrė naują grupę.
Indrė Dirgėlaitė lietuvių publikai bene geriausiai žinoma kaip Jurgos vaidmens atlikėja Viačeslavo Ganelino miuzikle Velnio nuotaka. Dainininkę daug kas įsiminė ir iš Lietuvos valstybinio simfoninio orkestro (meno vadovas ir vyr. dirigentas Gintaras Rinkevičius) populiariosios muzikos programų.
Indrė studijavo džiazo vokalą Klaipėdos universitete, Lietuvos muzikos ir teatro akademijoje, J.Sibeliaus muzikos akademijoje Suomijoje bei Stokholmo karališkojoje muzikos akademijoje Švedijoje. Ji – daugelio konkursų (New Wave, Malwy 2000, Fizz Superstar, Sing Jazz ir kt.) prizininkė bei finalininkė.
Dainininkė atlieka įvairią muziką – bendradarbiauja su džiazo, roko, folkloro muzikantais, bardais ir aktoriais. Ji pasirodė džiazo, šiuolaikinio meno ir kitokiuose festivaliuose su suomių, švedų, lietuvių muzikantais daugelyje Europos šalių, tarp jų – Graikijoje, Vokietijoje, Rumunijoje, Suomijoje, Švedijoje.
Šiuo metu Indrė dėsto Lietuvos muzikos ir teatro akademijoje.
Liutauras Janušaitis yra pirmasis lietuvis, baigęs (2011 m.) džiazo žvaigždžių kalve vadinamą Berklio muzikos koledžą Bostone (JAV). Prieš tai muzikas studijavo džiazo saksofoną Lietuvos muzikos ir teatro akademijoje, Petro Vyšniausko klasėje.
Liutauras yra koncertavęs su daugeliu Lietuvos džiazo, funk ir popmuzikos grupių, tarp jų – UAB Music, Groovy Taxi, Saulės kliošas, A.I.R., Skamp, InCulto, kūrė joms aranžuotes. Jis buvo ir tarp pirmojo Lietuvoje salsos orkestro įkūrėjų, subūrė grupę REsound. Su įvairiais kolektyvais L.Janušaitis dalyvavo Vilniaus, Kauno, Birštono ir kituose džiazo bei šiuolaikinės muzikos festivaliuose.
Studijuodamas JAV muzikantas įgrojo savo pirmąjį autorinį albumą Eclectic Sketches. Pasak Liutauro, muzikoje jį traukia keisti, netradiciniai dalykai.
Johanas Lindbomas yra dažnas I.Dirgėlaitės scenos partneris. Jis baigė džiazo studijas Stokholmo kareliškojoje muzikos akademijoje, reiškiasi įvairios muzikos – daugiausia džiazo ir populiariosios – projektuose.
Išskirtinis Johano bruožas – nebūdingas kontrabosininkams susidomėjimas švedų folkloru. Šį atlikėją galima atpažinti iš savitos muzikavimo manieros ir ypatingo instrumento skambesio. J.Lindbomas yra populiarus Švedijoje tarp įvairios muzikos atlikėjų. Su popartiste Sara Isaksson, džiazo pianistu Andersu Widmarku ir folkloro dainininke Malin Foxdal jis apvažiavo Skandinaviją ir daugelį Europos šalių.
Arkadijus Gotesmanas yra vienas universaliausių Lietuvos perkusininkų.
Jis groja ne tik džiazą, bet ir naujausią akademinę muziką, rašo scenarijus muzikiniams performansams ir instaliacijoms, kuria ir įrašinėja muziką teatrui, atlieka ją spektakliuose, gyvai garsina nebylius kino filmus, rengia projektus su šokėjais.
A.Gotesmano perkusija skamba Oskaro Koršunovo spektakliuose, kompozitoriaus Anatolijaus Šenderovo balete "Dezdemona", choreografės Loretos Juodkaitės spektaklyje "Nepaklusti".
A.Gotesmanas teatro mėgėjams įsiminė, kartu su aktore Dalia Michelevičiūte įprasminęs Wislawos Szymborskos poetinių vizijų pasaulį. 2010 metais perkusininkas pakvietė į savo pirmąjį autorinį monospektaklį dramos teatre "Dievo žmogaus istorija".
A.Gotesmanas yra išleidęs solinį albumą "J.Brodsky in memoriam", įkvėptą poeto eilių. Jis rengia projektus su literatais, įrašė kompaktinį diską kartu su poetu Rolandu Rastausku.
Džiazo scenoje A.Gotesmanas debiutavo devintajame dešimtmetyje. Jis bendradarbiavo su daugybe įvairių krypčių muzikantų, tarp jų – Rolandu Dahindenu, Vladimiru Volkovu, Viačeslavu Gaivoronskiu, Arkadijumi Šikloperiu, Julianu Josephu, Johnu Zornu, Davidu Geringu, Jacku Sironu, Franku Londonu, Anthony Colemanu, Charlesu Gayle'u.
Perkusininkas yra ilgametis Petro Vyšniausko, Viačeslavo Ganelino, Liudo Mockūno partneris, rengia originalius projektus su vokaliste Andre Pabarčiūte. Jis yra Vilniaus klezmerių orkestro įkūrėjas ir narys, klezmerių muzikos festivalio rengėjas.
INDRĖ DIRGĖLAITĖ AND WHITE SAND SONGS
(Lithuania-Sweden)
Indrė Dirgelaitė – voc
Liutauras Janušaitis – sax, keyb
Johan Lindbom – db
Arkadij Gotesman – perc, drums

Indrė Dirgelaitė returns to Birštonas Jazz after six-year brake. This time she brings original programme featuring her own compositions imbued with Nordic colour. She is also an author of the English lyrics. Indrė has already performed some of these compositions with her Scandinavian colleagues, and for this appearance she gathered a new group.
In Lithuania Indrė Dirgėlaitė is, perhaps, best known as Jurga in Vyacheslav Ganelin's musical Velnio nuotaka (The Devil's Bride). Many of us also remember the singer's appearance in popular music programmes with the Lithuanian State Symphony Orchestra (artistic director and principal conductor Gintaras Rinkevičius).
Indrė studied jazz vocal at the Klaipėda University, the Lithuanian Academy of Music and Theatre, the Sibelius Academy in Finland and the Royal Swedish Academy of Music in Stockholm. She was a prize winner and finalist at the New Wave, Malwy 2000, Fizz Superstar and Sing Jazz competitions.
The singer performs diverse music – collaborates with jazz, rock and folk musicians, as well as bards and actors. Together with Finnish, Swedish and Lithuanian musicians she has appeared in jazz, contemporary art and various other festivals in many European countries including Greece, Germany, Romania, Finland and Sweden.
Currently, Indrė teaches at the Lithuanian Academy of Music and Theatre.
Liutauras Janušaitis is the first Lithuanian to graduate from the Berkelee College of Music in Bostone (2011). Before the musicians has studied under Petras Vyšniauskas at the Lithuanian Academy of Music and Theatre.
Janušaitis has appeared with a many Lithuanian jazz, funk and pop music groups including UAB Music, Groovy Taxi, Saulės kliošas, A.I.R., Skamp, InCulto; also arranged for them. He was among the first formers of salsa orchestras; formed REsound group. With various collectives Janušaitis took part in Vilnius, Kaunas, Birštonas and other jazz and contemporary music festivals.
While studying in the USA, the musician recorded his first personal album Electric Sketches, According to Janušaitis, in music he is fascinated by strange and untraditional elements.
Johan Lindbom is Dirgelaitė's regular stage partner. He studied jazz at the Royal Swedish Academy of Music in Stockholm, works in various music projects predominantly jazz and popular music.
One of his interests, quite rare among the double bassists, is fascination with Swedish folklore. He can be recognised from an idiomatic playing manner and a special sound. Lindbom is popular among various Swedish musicians. With Sara Isaksson, a pop music figure, Anders Widmark, a jazz pianist, and Malin Foxdal, a folk singer, he toured throughout Scandinavia and many European countries.
Arkadij Gotesman is one of the most resourceful Lithuanian percussionists. In addition to playing jazz, he performs contemporary academic music, writes scenarios for performances and installations, composes, records and performs music for theatre, performs as a silent film taper, collaborates with dancers.
Gotesman's percussion can be heard in Oskaras Koršunovas' theatre productions, and Anatolijus Šenderovas' ballet Desdemona, choreographer Loreta Juodkaitė's production To Disobey.
 
Theatre lovers still remember Gotesman and actress Dalia Michelevičiūtė's production dedicated to Wislawa Szymborska's poetry. In 2010, the percussionist invited to The Story of a God's Man, his first one-man show staged at the drama theatre.
Inspired by J. Brodsky's poems the percussionist recorded solo album J. Brodsky in memoriam. He designs projects with people of letters; recorded a CD with poet Rolandas Rastauskas.
Gotesman made his jazz debut in the 80s. He has collaborated with exponents of various trends including Roland Dahinden, Vladimir Volkov, Vyacheslav Gaivoronsky, Arkady Shikloper, Julian Joseph, John Zorn, David Geringas, Jack Siron, Frank London, Anthony Coleman and Charles Gayle.
For many years the percussionist has been working with Petras Vyšniauskas, Vyacheslav Ganelin and Liudas Mockūnas, has presented original projects with vocalist Andrė Pabarčiūtė. He is a founder and member of Vilnius Klezmer Orchestra, organises the Klezmer Music Festival.