KAUNAS BIG BAND AND L. PILKAUSKAS PROJECT YOU DON'T KNOW ME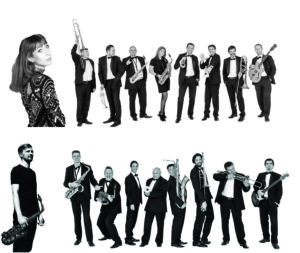 Leonardas Pilkauskas – saxes, author                             
Daiva Starinskaitė – voc
Kaunas Big Band has been appearing at the Birštonas Jazz since 1980 and has presented many interesting programs and soloists here. However, this year's show is truly exceptional, as the program will feature the younger generation saxophonist, composer and educator Leonardas Pilkauskas' original compositions arranged for the big band.
Pilkauskas has been producing arrangements and instrumentations for various projects and collectives since 2014, from chamber ensembles to big bands and symphony orchestras. Part of the arranger's life is to stay in the shadow of the stars of the stage, but this time it will be different – for the Birštonas Jazz the musician has developed a distinctive, philosophical-autobiographical program, in which he will recount about himself, the people and cities that inspired him.
With You don't know me Pilkauskas introduces himself to those who don't know him yet. The concert program will feature works of various styles composed in The Hague and Amsterdam during Leonardas' studies. The musician himself will also step on the festival stage with a saxophone, and his vocal works will be brought to life by Daiva Starinskaitė, the renowned jazz, soul, funk and R&B singer.
The program will be conducted by Jievaras Jasinskis, the artistic director and conductor of Kaunas Big Band.
Leonardas Pilkauskas is constantly looking for creative challenges. While still a student at the Lithuanian Academy of Music and Theatre, the Royal Conservatory of The Hague and Conservatorium van Amsterdam, he started gathering together likeminded colleagues.
John Albert Group, an ensemble he formed in Amsterdam, earned recognition in the International Jazz Youth Ensemble Competition in Belgium. In addition, he has toured internationally with his Stereo Drums. Moreover, he is the leader of Sassy Connections, D'pendent Ensemble and Re: Muzika, kuri gimė vakar (Re: Music that was born yesterday).
After six years of studies abroad, Pilkauskas returned to Lithuania in 2012 and began his teaching career at the Contemporary School Centre in Vilnius, where he formed a children's jazz group. Today, Pilkauskas is one of the most productive orchestrators and arrangers in Lithuania.
He produces more than 150 different arrangements a year. As an arranger he has collaborated with a variety of ensembles, including Vilnius Jazz Orchestra and Baltic Jazz Orchestra (led by R. Rančys), Martynas Levickis' Microorchestra, Klaipėda Chamber Orchestra; arranged music for the Festival of Short Musicals MfESt'15, as well as for many LRT projects.
Besides his solo career, the musician has continued to cultivate the artistic abilities with the younger generation jazz star collectives Birthday, international Tango in Jazz and other projects. His stage partners included Luciano Poli and Francesco Angiuli (Italy), Miguel Rodriguez (Spain), Eef van Breen (the Netherlands), Felix Schlarmann (Germany), Steven Willem Zwanink (Canada), Michiel Claus and Jelle van Giel (Belgium), John Ruocco (USA), many Scandinavian and Baltic jazz players, and an array of creative young Lithuanian jazz musicians.
Daiva Starinskaitė is one of the brightest younger generation jazz vocalists in Lithuania. She completed her Master's Degree in Jazz in Lithuania, honed her skills at the National Conservatoire in Paris, received various awards.
In 2003–2007, the soloist was a member of the popular band Saulės kliošas. She is currently a vocalist of electrosoul and Keymon. She lives and works in the UK.
Kaunas Big Band has been in existence since 1991, again and again enhancing Lithuanian jazz scenes – Birštonas Jazz, Kaunas Jazz, Klaipėda Castle Jazz and Šiauliai Big Band festivals.
A member of the concert institution "Kauno santaka", Kaunas Big Band has always been in the centre of the most important jazz music events. Over more than twenty-five years of its existence, it has become a significant leader of the city's and Lithuanian jazz culture.
Kaunas Big Band can be heard in prestigious concert halls and multi-thousand seat arenas, its programs feature jazz and pop musicians of the highest calibre.
The orchestra has hosted a number of memorable concerts and presented to the audience many a world-class music celebrity including the Finnish jazzmen Eero Koivistoinen and Jukka Linkola, Swedish trumpeter Lasse Lindgren and multi-instrumentalist Gunhild Carling, American jazz composer Frank Mantooth, trumpeter Randy Brecker, trombone player Jiggs Whigham, saxophonist and composer Bob Mintzer, German organist Barbara Dennerlein, French accordionist Richard Galliano, Spanish percussionist Jorge Perez, clarinet virtuoso from Norway Felix Peikli, the young Estonian jazz star Sofia Rubina and Mexican vibraphonist Victor Mendoza.
Kaunas Big Band has represented Lithuania's jazz culture in Finland, Sweden, Norway, Poland, the Netherlands, Latvia, Russia, Belarus and Estonia. It has partnered almost every celebrated Lithuanian jazz master, the Lithuanian National Symphony Orchestra. The exponents of other artistic medias have collaborated with the collective in educational programs. Several generations already have considered Kaunas Big Band as a symbol of the live jazz school.
The Big Band's late leader Romualdas Grabštas (1943–2009) stood at the collective's helm for 18 years. The founder's aspirations were pursued by Skirmantas Sasnauskas, Tomas Botyrius and Petras Tadaras. Currently, Big Band's wheel is in the hands of Jievaras Jasinskis, the Big Band's artistic director and conductor.
In 2006, the Lithuanian Musicians' Union presented Kaunas Big Band with Gold Disc for its achievements. In 2009, for his contributions to Lithuanian jazz Romualdas Grabštas was posthumously granted the Vilnius Jazz Award.
Jievaras Jasinskis – see p.