KĘSTUČIO VAIGINIO KVARTETAS IR DAVID BERKMAN
(Lietuva-JAV-Turkija)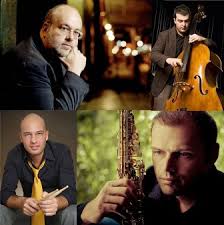 Kęstutis Vaiginis – saxes
David Berkman – p
Kagan Yildiz – db
Ferit Odman – dr
Kęstučio Vaiginio ir Davido Berkmano keliai susikirto lietuviui studijuojant Olandijoje: JAV džiazo korifėjus buvo vienas K.Vaiginio pedagogų. Jau tada mokytojas ir mokinys pabandė muzikuoti kartu. Vėliau D.Berkmanas padėjo saksofonininkui įrašyti Niujorke albumą, o 2008-aisiais abu muzikantai surengė bendrą koncertą Kaunas Jazz festivalio rudens cikle.
Birštono scenoje džiazo kūrėjai pristato savo kompozicijas kartu su turkų muzikantais. Šio projekto rėmėja – JAV ambasada Lietuvoje.
Daugelio respublikinių ir tarptautinių konkursų laureatas Kęstutis Vaiginis yra vienas kūrybingiausių ir veikliausių jaunosios kartos lietuvių saksofonininkų ir džiazo kūrėjų. Jis dalyvauja ir kitų žanrų muzikos projektuose.
K.Vaiginis baigė Lietuvos muzikos ir teatro akademijos magistrantūrą docento Petro Vyšniausko klasėje, vėliau mokėsi Prince Claus Conservatoire bei Amsterdamo aukštojoje menų mokykloje Olandijoje, gilino džiazo įgūdžius Manheteno muzikos mokykloje Niujorke.
Lietuvių publikai K.Vaiginis žinomas kaip daugybės tarptautinių projektų autorius ir lyderis. Tarp jo buvusių ir dabartinių scenos partnerių – Barbara Dennerlein, Hernanas Romero, Randalas Corsenas, Bilalas Karmaranas, Burakas Bedikyanas, Caneras Kaptanas, Herbie Kopfas, Joonas Haavisto, Denisas Paškevičius, Indonezijos, Korėjos, Italijos muzikantai.
Saksofonininko nuolatiniai partneriai lietuviai – Dainius Pulauskas, Eugenijus Kanevičius, Darius Rudis. 2008-aisiais Kęstutis subūrė Lietuvoje jaunimo bigbendą Independent Artists Ensemble.
K.Vaiginis yra dažnas Kaunas Jazz, Vilnius Jazz, Birštono ir Nidos džiazo festivalių dalyvis. Jis pasirodė šiuolaikinės muzikos festivalyje Gaida, Didžiajame muzikų parade, koncertavo Nacionalinėje filharmonijoje.
Su įvairiais kolektyvais saksofonininkas pristatė savo muziką ne tik Lietuvoje, bet ir Olandijoje, Ispanijoje, Prancūzijoje, JAV, Turkijoje, Brazilijoje, Azerbaidžane, Gruzijoje, Baltarusijoje. Su D.Pulausko grupe jis gastroliavo Malaizijoje ir Kinijoje.
K.Vaiginis išleido autorinius albumus Gipsy Nature ir Unexpected Choises. Pastarasis įrašytas su pripažintais Niujorko muzikantais. K.Vaiginio kompozicijos įtrauktos ir į kelis lietuviškos muzikos rinkinius.
2010 metais K.Vaiginio nuopelnai Lietuvos džiazui įvertinti Birštono festivalio Grand Prix.
Davidas Berkmanas pelnė tarptautinį pripažinimą kaip džiazo pianistas, kompozitorius, grupių lyderis ir pedagogas. Jis jau beveik 30 metų yra svarbi Niujorko džiazo scenos figūra.
Pianistas grojo daugybėje kolektyvų, tarp jų – Cecilo McBee, Tomo Harrello, Vanguard Orchestra, koncertavo ir įrašinėjo muziką su džiazo įžymybėmis Brianu Blade'u, Joe Lovano, Dave'u Douglasu, Ray Drummondu, Billy Hartu, Dicku Oattsu, Tony Malaby, Chrisu Potteriu, Scottu Wendholtu, Lenny White, Scottu Colley ir kt.
Pastaraisiais metais D.Berkmanas sutelkė dėmesį į savo projektus – daug koncertavo solo, su savo kvartetu, kvintetu ir sekstetu JAV, Europos ir Japonijos festivaliuose bei klubuose. Jo įrašus įtakingi kritikai daug kartų rinko geriausiais metų albumais.
D.Berkmanas nuolat dalijasi patirtimi su JAV, Pietų Amerikos ir Europos aukštųjų mokyklų džiazo studentais. Didelio susidomėjimo sulaukė jo parašyti džiazo vadovėliai "The Jazz Musician's Guide to Creative Practicing" (2007) ir "The Jazz Singer's Guidebook" (2009).
Šiuo metu pianistas intensyviausiai koncertuoja su savo trio, New York Standards Quartet ir trimitininku Tomu Harrellu.
Kaganas Yildizas po studijų Mimaro Sinano universiteto konservatorijoje daugiausia muzikavo įvairiuose Turkijos simfoniniuose ir kameriniuose orkestruose, tarp jų – Stambulo valstybiniame simfoniniame bei kameriniame ir Stambulo filharmonijos.
Džiazo scenose kontrabosininkas pasirodė su daugeliu žymių tautiečių ir pripažintų užsienio meistrų: Önderiu Focanu, Keremu Görsevu, Allanu Harrisu, Micheliu Borstlapu, Freddie Cole'u, Marku Murpy, Dave'u Samuelsu, Dena De Rose, Lee Konitzu ir kitais.
Feritas Odmanas studijavo muziką Stambulo Bilgi universitete, tobulinosi Niujorke. 2006 metais jam buvo suteikta Fulbrighto stipendija studijoms Williamo Patersono universitete JAV.
Anksti įsitvirtinęs Turkijos džiazo scenoje būgnininkas muzikuoja su turkų pianistu Keremu Görsevu, vadovauja savo kvintetui, groja dar aštuoniose grupėse. Jis išleido kompaktinį diską Nommo, kurį įrašė Niujorke su Vincentu Herringu, Brianu Lynchu, Peteriu Washingtonu ir B.Bedikyanu.
_____________________________________________________________________________
KĘSTUTIS VAIGINIS QUARTET AND DAVID BERKMAN
(Lithuania-USA-Turkey)
Kęstutis Vaiginis – saxes
David Berkman – p
Kagan Yildiz – db
Ferit Odman – dr

Kęstutis Vaiginis and David Berkman have met when the Lithuanian studied in the Netherlands – the American jazz coryphée was one of Vaiginis' pedagogues. Already then the teacher and the disciple tried to make music together. Later Berkman helped the saxophonist to record an album in New York, and in 2008 both musicians teamed in one of Kaunas Jazz concerts.
On Birštonas' stage the jazzmen present own compositions together with Turkish musicians. The project is supported by the Embassy of the United States in Lithuania.
Winner of a number of national and international competitions Kęstutis Vaiginis is one of the most creative and active Lithuanian saxophonists and jazz composers of younger generation. He also appears in projects of various other genres.
Vaiginis earned Master Degree from the Lithuanian Academy of Music and Theatre where he studied with associate Professor Petras Vyšniauskas. He furthered his education at the Prince Claus Conservatoire and Amsterdam School of the Arts (the Netherlands), as well as Manhattan School of Music in New York.
In Lithuania Vaiginis is known as an initiator and leader of a number of international projects. The list of his stage partners includes Barbara Dennerlein, Hernan Romero, Randal Corsen, Bilal Karmaran, Burak Bedikyan, Caner Kaptan, Herbie Kopf, Joon Haavisto and Deniss Pashkevich, as well as Indonesian, Korean and Italian musicians.
In Lithuania he collaborates with Dainius Pulauskas, Eugenijus Kanevičius and Darius Rudis. In 2008, Vaiginis formed Independent Artists Ensemble, a Lithuanian youth big band.
Vaiginis regularly appears in Kaunas Jazz and Vilnius Jazz, Birštonas and Nida jazz festivals. He took part in Contemporary Music Festival Gaida, and the Great Parade of Musicians, performed in the Lithuanian National Philharmonic Society.
As a member of various collectives the saxophonist performed his compositions not only in Lithuania, but also the Netherlands, Spain, France, the USA, Turkey, Brazil, Azerbaijan and Belarus. With Dainius Pulauskas Group he toured in Malaysia and China.
Vaiginis recorded two personal albums: Gipsy Nature and Unexpected Choices. The latter was recorded with celebrated New Yorkers. Vaiginis' compositions were included in several Lithuanian music collections.
For his contributions to Lithuanian jazz Vaiginis was awarded Grand Prix in Birštonas Jazz 2010.
 
David Berkman has earned international recognition as a jazz pianist, composer, bandleader and educator. For almost three decades he has been a prominent figure on New York jazz scene.
The pianist has played in countless bands including those of Cecil McBee and Tom Harrell, Vanguard Orchestra, performed and recorded with such jazz luminaries as Brian Blade, Joe Lovano, Dave Douglas, Ray Drummond, Billy Hart, Dick Oatts, Tony Malaby, Chris Potter, Scott Wendholt, Lenny White and Scott Colley among many others.
Lately, Berkman has focused on his own projects – performed solo soloist and with his Quartet, Quintet and Sextet at festivals and clubs in the United States, Europe and Japan. His recordings have appeared on numerous best records of the year critic's lists.
Berkman has performed and taught at numerous jazz camps, universities and conservatories around the United States, South America and Europe. He has authored jazz textbooks "The Jazz Musician's Guide to Creative Practicing" (2007) and "The Jazz Singer's Guidebook" (2009) that have stirred great interest.
Recently, he has concentrated on his own trio, New York Standards Quartet and collaboration with trumpeter Tom Harrell.
After graduating from Mimar Sinan University of Fine Arts Kagan Yildiz was a member of various symphony and chamber orchestras in Turkey including Istanbul State Symphony Orchestra, Istanbul Chamber Orchestra as well as Istanbul Philharmonics.
On jazz scene the double bassist collaborated with many a famous compatriot and recognised international masters such as Önder Focan, Kerem Görsev, Allan Harris, Michel Borstlap, Freddie Cole, Mark Murpy, Dave Samuels, Dena De Rose, Lee Konitz, etc.
Ferit Odman studied music at the Bilgi University in Istanbul, honed his skills in New York. In 2006, he received the Fulbright scholarship for his studies at the William Paterson University in the USA.
Having made his say on Turkish jazz scene, the drummer collaborates with pianist Kerem Görsev, leads his own Quintet, and in addition works in eight different groups. In New York he has recorded CD Nommo also featuring Vincent Herring, Brian Lynch, Peter Washington and B.Bedikyan.