KĘSTUTIS VAIGINIS QUARTET
(Lithuania – Lebanon/USA – Italy – Latvia)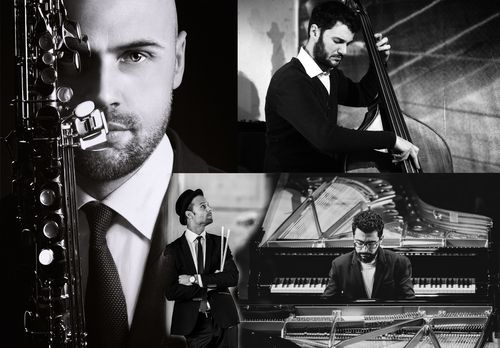 Kęstutis Vaiginis – saxes, author
Tarek Yamani – p
Igor Spallati – db
Kaspars Kurdeko – dr
Kaspars Kurdeko – dr
One of the most talented saxophonists of the younger generation, Kęstutis Vaiginis, a regular participant of the Birštonas Jazz festival, presents his new international project, this time reviving his creative friendship with two of his fellow students, Tarek Yamani and Kaspars Kurdeko.
It is one of many Kęstutis' international quartets performing his music, in which he seamlessly blends elements of modern jazz and academic music, lyricism and emotionality. The Quartet's appearance at the festival will feature several of the leader's new compositions.
Soprano and tenor saxophonist, as well as flutist Kęstutis Vaiginis, one of the most productive jazz masters in Lithuania, is an initiator and leader of a number of international projects. He quickly established himself on the Lithuanian jazz scene, appearing with experienced Lithuanian and foreign jazz masters of both his and older generation.
With various formations he performed his compositions in Lithuania, the Netherlands, Spain, France, the USA, Germany, Poland, Turkey, Brazil, Azerbaijan, Sakartvelo and other countries.
He revealed his compositional talent while still a student at the Lithuanian Academy of Music and Theatre, the Prins Claus Conservatorium and Amsterdam School of the Arts (the Netherlands), as well as Manhattan School of Music in New York.
During his study years Vaiginis started composing for big bands as well. He formed and led Independent Artists Ensemble, an independent Lithuanian youth big band; performed his compositions with the German State Youth Jazz Orchestra.
In 2013, the saxophonist received the European Culture Foundation's Europamusicale Music Prize, which annually is given to one European musician. Earlier he earned awards in many national and international competitions and garnered the Grand Prix in Birštonas Jazz 2010.
The list of his former and current stage partners includes such jazz coryphées as Alex Sipiagin, David Berkman, David Kikoski, Jelle Van Gie, Barbara Dennerlein, Hernan Romero, Ed Howard, Adam Cruz, Randal Corsen, Bilal Karaman, Burak Bedikyan, Ferit Odman, Joonas Haavisto, Deniss Pashkevich, Dmitrij Golovanov as well as Indonesian, Korean and Italian musicians. The musician is a member of Lithuanian-Latvian-Estonian Tree Stones quartet and Dainius Pulauskas Group.
As a leader of various collectives and as a guest artist he appeared in prestigious jazz festivals including Nord Sea Jazz, Rotterdam, London, Ottawa, Cape Town, Istanbul, Hong Kong and Tokyo to name but a few, toured in Europe, Asia, North and South America and Africa.
Vaiginis' discography amounts to more than ten albums. "His vision is wide-ranging from the subtle to the provocative, rooted in an appreciation of tradition and yet looking forward", said Steve Wilson, an illustrious American saxophonist, about Vaiginis' Unexpected Choices, his author CD recorded with acclaimed New Yorkers. 
Tarek Yamani, a jazz pianist and composer, was born and grew up in Beirut. He has been living in New York since 2011. The pianist studied computer science at the American University of Beirut and the jazz piano at the Prins Claus Conservatorium in Groningen (the Netherlands).
He turned to jazz at the age of 19 and quickly revealed his extraordinary abilities, gaining recognition at home and abroad. Journalists have even called Tarek a magician, whose music  plunges the audiences into trance and ecstasy.
The pianist became the winner of the prestigious Thelonious Monk International Jazz Composers Competition. Since his debut album Ashur (2012), he has been reinventing classical Arabic music within the framework of African-American jazz in his work. This is particularly evident in his second album, Lisan Al Tarab: Jazz Conceptions in Classical Arabic. His latest work Peninsular, based on Arabic rhythms and commissioned by the Abu Dhabi Festival, has been described by critics as "world-jazz heard nowhere else."
Yamani is a recipient of many grants by such institutions as the Baryshnikov Arts Center, the Givanas Foundation, the Prins Bernhard Culture Fund, the Arab Fund for Arts and Culture. He has performed in the Smithsonian Institute (Washington, CD), Lincoln Center, the United Nations Assembly Hall and Aaron Davis Hall (New York), the Detroit Institute of Arts, Gran Teatro de La Habana, Melbourne Arts Center, Boulez Saal in Berlin, King's Place in London and many other important venues.
The pianist has played in New York's most renowned jazz clubs: Lenox Lounge, Iridium, Smoke, Smalls, Bill's Place, The Stone, Le Poisson Rouge, Shapeshifter Lab, Nublu & 55 Bar and others.
Tarek has been part of three all-star global concerts of the International Jazz Day and shared the stage with such luminaries as Wayne Shorter, Richard Bona, Zakir Hussein, Esperanza Spalding, Antonio Sanchez, Brian Blade and Vinnie Colaiuta.
He is also an educator: has written two books on rhythm, and organised a cutting-edge performance "Beirut Speaks Jazz" to promote jazz in Lebanon, which has attracted dozens of musicians of various genres.
Tarek has produced soundtracks for many short films. One of them, Darine Hotait's I Say Dust, was screened in over 70 festivals around the world.
Double bassist Igor Spallati grew up in Perugia (Italy) and graduated from the Jazz-Institute Berlin. A resident of Berlin to this day, he is involved in the city's jazz and rock music projects.
In 2011, Spallati became the first winner of the Savoy Award of Excellence for young jazz talent set up by the Savoy Berlin Hotel. At the time, the musician collaborated with Mike Richmond, Dado Moroni, Pietro Tonolo, Gabriele Mirabassi, Fred Hersch, Joe Chambers, and participated in Jazz Baltica, Umbria Jazz and other festivals.
Igor is a member of Rosen Quintett and has collaborated with Nickhead, Markus Ehrlich's Flexible Eingreiftruppe, Italian rockers Fleshgod Apocalypse, and many jazz artists including Simon Kanzler, Anna Webber, Clara Haberkamp, ​​Fuasi Abdul-Khaliq, Florian Menze, Uri Gincel, Moritz Baumgärtner and Volker Schlott.
Spallati's bass sounds on five albums.
Latvian drummer Kaspars Kurdeko received his classical education at the Latvian Academy of Music in Riga. He studied jazz at the School of the Arts in Amsterdam and the Manhattan School of Music in New York.
During his studies, Kaspars' quartet Deko Motion won the "Keep an Eye Jazz Award" in Amsterdam, and Kaspars was recognized as the best jazz musician. At the time, an avid experimenter and the original improviser drew the attention of Terry Lyne Carrington, a prominent drummer and professor at Berklee College of Music (USA). She foresaw a promising future for Kaspars. And she was not mistaken.
The drummer shared the stage with Didier Lockwood, Seamus Blake, Jesse Van Ruller, Benjamin Herman, Francesco Bearzatti, Spyros Manesis Trio, Dominic J. Marshall Trio and other jazz artists, and performed with the Kremerata Baltica chamber orchestra. In Lithuania we have heard him improvising with Lithuanians Kęstutis Vaiginis and Dmitrij Golovanov, the members of the Baltic musicians' jazz quartet Tree Stones.
Kaspars has written music for films, the contemporary dance production Divotne, the ballet Never Tales. The latter received its premiere at the Latvian National Opera and Ballet Theatre last year. He recently released a vinyl album for his experimental trio KlusiKlusi (Jersika Records).
The drummer has appeared with various formations in the USA, South Korea, Sweden, Portugal and other countries. He currently teaches the percussion at the Jazz Department of Jāzeps Vītols Latvian Academy of Music and Ventspils Music School.