KLAIPĖDA JAZZ ORCHESTRA ANF NICOLE ZURAITIS (USA)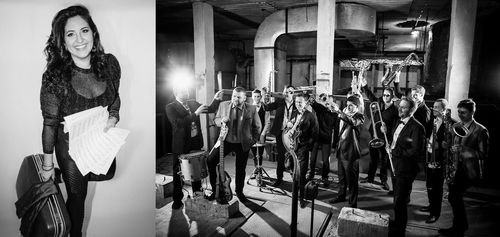 Western Lithuania's jazz ambassadors are going to surprise the festival fans – they are bringing a program of mainstream jazz arrangements specifically designed for this show with Nicole Zuraitis, a rising star of New York jazz scene.
For multifariously talented soloist Nicole Zuraitis this is her second tour in Lithuania. Last summer she performed at the Klaipėda Castle Jazz Festival with the Lithuanian Armed Forces Orchestra led by conductor Egidijus Miknius. Now the same maestro will stand at the helm of the port city's Big Band.
Established in 2013, Klaipėda Jazz Orchestra has collaborated with a number of renowned foreign musicians including Americans Jojo Mayer, Vern Spevak and David Katz, Spaniard Francesco Angel Latino, and Ukrainian Anastasia Bukina.
The collective took part in international jazz festivals in Kaliningrad and Odessa, as well as almost all jazz festivals in Lithuania. It regularly presents educational programs for young performers in Klaipėda.
The Big Band involves the region's best jazz musicians – professionals and students, current and former residents of Klaipėda gathered by the Big Band leader saxophonist Kęstutis Sova, a recipient of the Klaipėda Castle Jazz Festival's "Jazz Star Award" for contributions to jazz in Klaipėda.
In this concert the Big Band will feature Kęstutis Sova, Dmitrijus Levencovas, Valdas Surdokas, Mindaugas Vadoklis, Vytautas Bložė, Jonas Katauskas, Sigitas Saukalas, Gytis Girdauskas, Dovydas Stalmokas, Donatas Bukauskas, Nojus Jurkus, Klaudijus Štuopinis, Martynas Šerpytis, Viačeslavas Krasnopiorovas, Aleksejus Morozovas, Vaidotas Rukas, Martynas Šiaulys and Grantas Kleinauskas.
Nicole Zuraitis is not only a talented vocalist but also a composer, arranger, pianist, and band leader. Her ancestors – grandfather Danielius Zuraitis and his parents – emigrated to the United States in 1909, but she has never forsaken her Lithuanian roots and loves to participate in various events organized by Lithuanians in the USA.
Of course, her talents have earned her much wider recognition. Admitting Nicole's great potential in putting her name on the jazz scene, the critics compare her to Diana Krall, Bonnie Raitt and Peggy Lee.
Nicole captivates listeners not only with her mastery of music making but also the emotional depth, warmth and charisma of her personality, and her irresistible enthusiasm.
The singer appears at the best jazz clubs in New York and is a vocalist of the Birdland Big Band. She is at ease in both jazz, pop and classical music, and has collaborated with Cyrille Aimee, Thana Alexa, Dave Stryker, Livingston Taylor, Tom Chapin, Omar Hakim, Melanie Safka, Helen Sung and Bernard Purdie.
Zuraitis' achievements are impressive. In 2016, she was the winner of the Songwriting Competition "Coffee Music Project" in New York, followed by the second prize in the Sarah Vaughan International Jazz Vocal Competition in a year, the ASCAP Foundation Herb Alpert Young Jazz Composer Award in 2014, as well as Johnny Mercer Award and the audience award at the American Traditions Vocal Competition.
The musician has released three personal albums. Hive Mind was voted the best jazz album at the 2018 International Music and Entertainment Awards. The same year, Nicole, along with her husband Dan Pugach, was nominated for the Grammy in the arrangement category for the version of Dolly Parton's song Jolene.
She also released a live album a year ago with guitarist Brandon Scott Coleman, and her latest album is due out in May this year.
The musician shares her expertise in vocal jazz and composition masterclasses around the world, as well as with students at the University of North Texas college of Music and Berklee College of Music in Boston.
She also finds time for the stray animal care and charity.