(vadovas – kapitonas Ričardas Čiupkovas)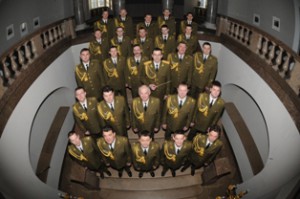 Kolektyvas savo kūrybos kelią pradėjo 1991-aisiais kaip pirmasis karinis pučiamųjų instrumentų orkestras, susikūręs Nepriklausomybę atgavusioje Lietuvoje. Jau po metų jis atstovavo šalies kariuomenei tarptautiniame karinių orkestrų festivalyje Prancūzijoje. 2008-aisiais tapo KASP bigbendu.
Šiandien be šio orkestro būtų sunku įsivaizduoti Krašto apsaugos savanorių pajėgas. Bigbendas koncertuoja kariniuose renginiuose ir valstybinėse šventėse, miestų aikštėse, mokyklose ir koncertų salėse. Jis daug kartų dalyvavo Klaipėdos pilies džiazo bei Šiaulių bigbendų festivaliuose, koncertavo "Piano.lt" festivalio publikai.
Kolektyvas vienija beveik tris dešimtis profesionalių muzikantų, kurių dauguma – Lietuvos muzikos ir teatro akademijos bei Vilniaus konservatorijos absolventai. Todėl orkestras meistriškai atlieka pačią įvairiausią muziką – nuo maršų ir džiazo standartų iki populiarių lietuviškų melodijų aranžuočių. Bigbendo muzikantai taip pat koncertuoja kamerinių džiazo kolektyvų, diksilendo, rokenrolo grupių sudėtimis.
KASP virtuozai laukiami ne tik Lietuvos scenose. Jie gastroliavo Airijoje, Belgijoje, Italijoje, Vokietijoje, Suomijoje, Lenkijoje, Rusijoje, Estijoje, Latvijoje, Afganistane. Kolektyvas išleido tris kompaktines plokšteles.
Dažnai koncertuose KASP bigbendui talkina talentingi šalies džiazo ir akademinės muzikos atlikėjai.
Programą Birštono festivaliui orkestras parengė kartu su džiazo vokalistu Jurgiu Brūzga ir daugelio tarptautinių konkursų nugalėtoju akordeonininku Andriumi Balachovičiumi. Tai KASP bigbendo debiutas Birštono scenoje.
---
National DefenCe Volunteer Forces of Lithuania Big Band
(leader – Captain Ričardas Čiupkovas)

The collective started its creative career in 1991. It was the first Lithuanian military big band formed after Lithuania regained Independence. The following year it represented Lithuanian military forces at the International Festival of Military Bands in France. In 2008, it was named the National Defence Volunteer Forces of Lithuania Big Band.
 Today the orchestra is inseparable from the National Defence Volunteer Forces of Lithuania. The Big Band participates in military events and state holidays, gives concerts in city squares, schools and concert halls. It has appeared in Klaipėda Castle Jazz Festival, Šiauliai Big Band Festival and Piano.lt Festival.
 The Big Band involves almost thirty professional musicians, majority of whom are graduates of the Lithuanian Academy of Music and Theatre, and Vilnius Conservatoire. Thus the orchestra feels at home in a wide variety of music – from marches and jazz standards to arrangements of Lithuanian popular melodies. The members of the Big Band also appear in smaller jazz, Dixieland and Rock 'n' Roll formations.
 The Big Band has toured in Ireland, Belgium, Italy, Germany, Finland, Poland, Russia, Estonia, Latvia and Afghanistan; recorded three CDs.
 The Big Band often teams up with talented Lithuanian jazz and academic musicians.
 In its debut at the Birštonas Jazz Festival, the Big Band collaborates with jazz vocalistJurgis Brūzga and accordionist Andrius Balachovičius, a winner of numerous international competitions.