LITHUANIAN-ITALIAN JAZZ QUARTET AND LAURA BUDRECKYTĖ
(Lithuania – Italy)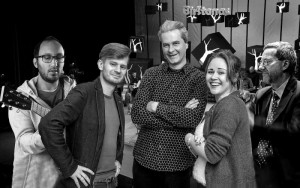 Andrej Polevikov – p,
Filippo Cosentino – g
Vytis Nivinskas – db
Andrea Marcelli – dr
Laura Budreckytė – voc
The musicians from two countries got acquainted in Berlin Jazz Festival and decided to team-up in spite of admitting that their styles and musical inclinations differ.
Quartet members are fond of challenges and experiments. "Most of the time the jazz players don't know how their composition will end. Our case will be very same. Or perhaps our collaboration will show that we are similar?" said Andrej Polevikov, one of the initiators of the project.
The group gave its first concert yesterday, so Birštonas will be the second station of their debut. For the festival the men prepared a programme of original compositions and arrangements and invited vocalist Laura Budreckytė, the winner of international jazz vocal competitions, to join them.
Pianist, composer and arranger Andrej Polevikov is well versed in various styles – from traditional jazz to pop and contemporary music.
While still at the Vilnius Conservatoire the pianist started performing in blues bands. With Bluesmakers he appeared in a number of foreign countries, sided the American blues masters. 
He earned Master Degree from the Lithuanian Academy of Music and Theatre in 2008. He was twice a winner of the Jazz Improvisation International Jazz Piano Competition organised by the LAMT: in 2007 (second prize) and 2009 (first prize).
However, his main creative energies are channelled into collaboration with jazz vocalists. The list of his stage partners includes Daiva Starinskaitė, Kristina Žaldokaitė, Giedrė Kilčiauskienė, Vytautė Pupšytė, Jazzu, Neda Malūnavičiūtė, Girmantė Vaitkutė, Vilija Matačiūnaitė and Sounds in G gospel choir. Jazz Miniatures and Blue in Bossa with Giedrė Kilčiauskienė earned great acclaim in Lithuania and abroad.
In 2008, the pianist joined the Lithuanian State Symphony Orchestra for the Andrea Bocelli's concert in Vilnius.
Andrej Polevikov teamed-up with many a Lithuanian jazz virtuoso including Remigijus Rančys, Pranas Kentra, Domas Aleksa and Darius Rudis. He made jazz festival appearances in Lithuania, Latvia, Germany and Luxembourg, performed in the United Kingdom, Estonia, Poland, Russia, Belarus, Turkey, Sweden, Belgium and France.   
Guitarist Filippo Cosentino is considered to be a new talent of the Italian jazz scene. The critics praise his remarkable maturity in thinking and versatility.
Graduate cum laude from Conservatorio G.B.Martini in Bologna has earned recognition in a number of guitar competitions, sided Italian and foreign pop, blues and jazz celebrities on tours and in studio.
He is the artistic director of the festival Cantautori d'Italia for Italian songwriters where he has chance to play with the most important artists of pop scene like Paola Turci, Francesco Tricarico, Mauro Ermanno Giovanardi, Deborah Bontempi and others.    
In addition, he is the artistic director of two jazz festivals Jazz&Co and Roero Music Fest; takes part in Italy's main jazz forums. The guitarist has collaborated with scores of jazz masters: Javier Girotto, Tom Kirkpatrick, Barend Middelhoff, Don Stapleson, Craig Silberschlag, Michael Rosen, Fabrizio Bosso to name but a few.
Cosentino also writes music for theatre and film. He composed the soundtrack for the short movie Praise to Loneliness, which was shown in Cannes and Trento film festivals. He also wrote the soundtrack for documentary Meno 100 Chili praised at Festival International du Film d'Environment in Paris.
Of three guitarist's acclaimed albums the third, L'astronauta, earned noteworthy recognition as the opener of the composer's new vistas. According to colleagues and critics, Filipp has embarked on a path of his own. His music is accessible and exotic at the same time.
Double bassist Vytis Nivinskas captivates his aficionados with his musical maturity, rich timbre and expression, eloquent articulation and melodiousness.
Fascinated with jazz Vytis swapped philosophy studies at the Vilnius University for the double bass. He graduated from the Vilnius Conservatoire, earned Bachelor Degree from the Lithuanian Academy of Music and Theatre (LAMT), and continued his education at the Carl Nielsen Academy of Music (Denmark) and DePaul University in Chicago (USA).
The double bassist has played jazz, rock, academic and contemporary music in Lithuania and abroad since he was a student.
While living in the USA (2001-2005) Nivinskas played with many musicians from Chicago and New York City, together with saxophonist Rimvydas Paulikas co-founded the Baltic Asteroids band in Chicago.
Recently the double bassist has mainly worked with jazz groups Saga, Riot, Baisios stygos,  CinAmono, Giedrė Kilčiauskienė and Andrej Polevikov's projects, Pieno Lazeriai alternative music group, collaborated with Vladimir Tarasov, Petras Vyšniauskas, Dalius Naujokaitis, Arūnas Šlaustas,  composer Linas Rimša, Jauna Muzika choir and Baltic Guitar Quartet,  pop-singer and  actress Jurga Šeduikytė, dancer Lora Juodkaitė,  other theatre personalities (theatre productions Uždaras vakaras and Geras žmogus iš Sezuano).
Nivinskas has appeared in jazz festivals and various other events in Denmark, Germany, the USA, Sweden, the Netherlands, Belgium, France and Luxembourg among other countries. He teaches at the Vilnius College of Higher Education and the LAMT. In addition to his personal projects, he has been playing solo.
Drummer and composer Andrea Marcelli was born in Rome, spent 12 years in the US, and since 2001 has resided in Berlin.
During 30 years of his jazz career he performed successfully in
five continents. Andrea recorded CDs with a great number of jazz legends including Wayne Shorter, Bob Mintzer, Mike Stern, David Liebman, Hiram Bullock, Mitchel Forman, John Patitucci, Palle Danielsson, Ralph Towner and many others.
About 200 of his compositions have been produced on CDs and broadcasted worldwide. Two of Andrea's compositions are included in "The European Real Book". He recorded many of his albums, among them two acclaimed solo CDs, for the legendary major jazz label VERVE/PolyGram.
The drummer received positive critique from the most influential jazz magazines including Jazz Times, Drum Beat and AllAbouJazz. "Andrea is such a chameleon. When I first heard his music, it struck me that he played drums, clarinet, percussion, keyboards and composed in a variety of styles that defied classification" wrote Wayne Shorter, the saxophone master.
Vocalist Laura Budreckytė has graduated from Birštonas School of Arts and the Lithuanian Academy of Music and Theatre, where she studied jazz vocal. The singer also honed her skills at the Estonian Academy of Music and Theatre, took part in master classes led by Bobby McFerrin, Jeff Cascaro and Brian Melwin. 
In 2012, Laura won the international competition of jazz vocalists Jazz Voices and was voted the best performer of the free programme. In 2013, she garnered Grand Prix at the Riga Jazz Stage.
Consequently, the soloist appeared in prestigious festivals Pori Jazz (Finland) and Rigas Ritmi (Latvia). She also gave performances in Spain, France, United Kingdom, Belgium, Bulgaria and around Lithuania.
For the Birštonas Jazz 2014, Laura formed CinAmono, which remains her active creative laboratory. She also made debut in Birmingham International Jazz and Blues Festival (UK) with The Schwings and was invited to come back this year.