MOCKŪNAS – HAUG – BRUUN
(Lietuva – Norvegija – Danija)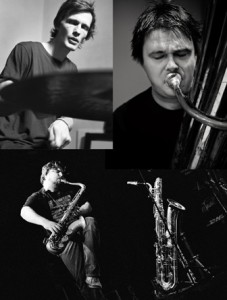 Liudas Mockūnas – saxes
Lars Andreas Haug – tba
Peter Bruun – dr
Trys džiazo novatoriai pirmą kartą susitinka scenoje. Šį trio subūrė Liudas Mockūnas, įkvėptas eksperimentų su Larsu Andreasu Haugu. Gavęs Šiaurės ministrų tarybos stipendiją Liudas su norvegų tūbininku visą savaitę įrašų studijoje šalia Oslo kūrė dialogus vien tik žemo skambesio instrumentais – tūbomis, bosiniu ir baritoniniu saksofonais, bosiniu klarnetu, didžiaisiais būgnais.
"Jei reikėtų perteikti savo muziką vaizdais, išvystumėte  nuostabaus grožio Norvegijos kalną ir jo papėdėje stūksančią bjaurojančią peizažą benzino degalinę", – juokavo duetas.
 Birštono scenoje bosinio saksofono ir tūbos tandemas driokstelės dozę "žemų dažnių" muzikos, pagardintos originaliu Peterio Bruun būgnijimu.
Liudas Mockūnas yra vienas ryškiausių Lietuvoje šiuolaikinio džiazo bei improvizacinės muzikos atstovų, įsiveržęs į pasaulio improvizacinės muzikos korifėjų orbitą. Pastaruoju metu labai palankių įvertinimų sulaukė jo pasirodymai su britų improvizacinės muzikos legenda kontrabosininku Barry Guy, vienu novatoriškiausių savo kartos JAV būgnininkų Williamu Hookeriu, iškiliu "free" džiazo saksofonininku Evanu Parkeriu.
Baigęs Lietuvos muzikos ir teatro akademiją bei Kopenhagos ritminės muzikos konservatoriją, Liudas  iš karto ėmė aktyviai reikštis Europos improvizacinės muzikos scenoje. Šiuo metu jis yra trio "Nuclear" ir "Traffic Trio" lyderis, tarptautinių džiazo kolektyvų "Toxikum", elektroakustinio trio "Red Planet", "Copenhagen Art Ensemble", "Pasborg's Odessa 5", "Free Moby Dick", Mikko Innaneno "Inkvistio", Vladimiro Tarasovo trio narys.
 Muzikas groja duetuose su Marcu Ducret ir Ryoji Hojito, Petru Geniušu, Vladimiru Tarasovu, Artūru Bumšteinu, bendradarbiauja su Jacobu Anderskovu, Nilsu Davidsenu, Matsu Gustaffssonu, Vladimiru Čekasinu, Arkadijumi Gotesmanu, Matsu Eilertsenu, Marku Solborgu, Jonasu Westergaardu, Jakobu Riisu, Jaaku Sooaaru ir daugybe kitų įdomių džiazo kūrėjų.
 Atlikėjas dalyvavo Pierre'o Dorge ir jo "New Jungle Orchestra", Andrew Hillo "Jazz Par" okteto,  "Ibrahim Electric",  "Markus Pesonen Handenctet", "Free Tallin Trio", Hugo Carvalhais "Nebulosa" bei kitų novatoriškų kolektyvų programose.
 Liudas Mockūnas yra žinomas ne tik kaip improvizacinės muzikos bei avangardinio džiazo atstovas, bet ir kaip šiuolaikinės akademinės muzikos atlikėjas. Jo repertuare – akademinės muzikos kūrėjų Broniaus Kutavičiaus, Anatolijaus Šenderovo, Arvydo Malcio, Viačeslavo Ganelino, Dietricho Eichmanno, Vykinto Baltako, Ramintos Šerkšnytės, Giedriaus Puskunigio kūriniai.
 Saksofonininkas yra šiuolaikinės muzikos ansamblių "Gaida" ir "Konvoj Art" narys. Jis koncertavo kaip solistas su "Kralovy Hradec Symphony Orchestra" (Čekija) , Lietuvos valstybiniu bei Nacionaliniu simfoniniais orkestrais, Šv.Kristoforo ir Klaipėdos kameriniais orkestrais, styginių kvartetu "Chordos". 2013 metais išleido su pianistu Petru Geniušu M.K.Čiurlionio fortepijoninių preliudų originalių interpretacijų albumą "Jūra Miške".
 Su  įvairiais kolektyvais pučiamųjų virtuozas pasirodė  daugelyje prestižinių Europos džiazo festivalių, gastroliavo JAV, Kinijoje, Japonijoje, Izraelyje.
 Liudas Mockūnas yra vienas Lietuvos džiazo federacijos atkūrėjų ir puikiai pasaulyje vertinamos lietuviškos įrašų kompanijos "NoBusiness Records" steigėjų.  Atlikėjo diskografiją sudaro apie 50 albumų.
 Liudo Mockūno meistriškumas yra įvertintas Lietuvos, Latvijos, Danijos  ir Prancūzijos džiazo konkursų premijomis, džiazo festivalių "Vilnius Jazz" ir "Birštonas", dienraščio "Lietuvos rytas" prizais bei Lietuvos muzikų sąjungos "Auksiniu disku". 2011 metais jam įteiktas Lietuvos teatralų apdovanojimas "Auksinis scenos kryžius" už muziką dramos spektakliui "Prakeiktieji" pagal O'Oneillo pjesę "Gedulas tinka elektrai" (režisierius A.Areima) OKT teatre.
 Šiuo metu Liudas Mockūnas yra Lietuvos muzikos ir teatro akademijos bei KaunoVytauto Didžiojo universiteto džiazo katedrų docentas.
Jaunosios kartos norvegų tūbininkas Larsas Andreasas Haugas garsėja savo eksperimentais tyrinėdamas reto džiaze instrumento galimybes. Atlikėjas baigė Oslo valstybinę muzikos akademiją.
Pernai, gavęs trimetę Norvegijos vyriausybės stipendiją, jis pasišventė savo sukonstruoto instrumento "tubmarine", patobulintos tradicinės tubos, bandymams.
 Larso Andreaso Haugo ekscentriškos, žaismingos improvizacijos įamžintos daugybėje albumų, kurių tris atlikėjas įgrojo kaip grupių lyderis.
 Svarbūs šio muziko įkvėpimo šaltiniai – kelionės po pasaulį ir įvairių tautų folkloras, o jo maršrutai raižo visą Europą, siekia Egiptą, Indiją, Japoniją.
Karališkosios Danijos muzikos konservatorijos absolventas Peteris Bruunas būgnais groja nuo trejų metukų ir iki šiol nesiliauja ieškoti savito braižo bendradarbiaudamas kaip muzikantas ir kompozitorius tiek su džiazo, tiek su akademinės muzikos atstovais.
 Būgnininkas muzikavo su daugybe šiuolaikinio džiazo korifėjų, tarp jų – "Marc Ducret Quintet", Django Bateso trio, tarptautiniais ansambliais "Mold", "Stork", Evanu Parkeriu, Chrisu Speedu, Herbu Robertsonu, Andrea Parkins, Lotte Anker, Timu Berne.
 Peterio būgnai skamba daugiau kaip 20 albumų, tarp jų – keturiuose autoriniuose. Muzikantas dėsto konservatorijose Kopenhagoje ir Orhuse bei įvairiuose meistriškumo kursuose.
---
MOCKŪNAS – HAUG – BRUUN
(Lithuania – Norway – Denmark)
Liudas Mockūnas – saxes
Lars Andreas Haug – tba
Peter Bruun – dr
Three jazz innovators meet on stage for the first time. The Trio was formed by Liudas Mockūnas inspired by the experiments he has enjoyed together with Lars Andreas Haug. Having received the scholarship from the Nordic Council of Ministers, Mockūnas together with Norwegian tuba player spent a week at the recording studio near Oslo creating dialogues on low-pitched instruments – tubas, bass and baritone saxophones, bass clarinet, big drum.
 "If we would need to come up with an image for our music, we would think of a Norwegian mountain of exceptional beauty and a gas station profaning the beautiful landscape at the foot of it", joked the duo.
 At the Birštonas Jazz Festival the saxophone and tuba tandem will present a crash of 'low frequency' music, flavoured by Peter Bruun's original drumming.
Liudas Mockūnas, one of the most creative representatives of the Lithuanian contemporary jazz and improvised music, is becoming a frequent visitor of the orbit of the coryphées of improvised music. Recently his appearances with double bassist Barry Guy, a British legend of improvised music, William Hooker, one of the most innovative drummers of his generation, and celebrated free jazz saxophonist Evan Parker earned outstanding reviews.
 Upon graduating from the Lithuanian Academy of Music and Theatre (LAMT) and the Rhythmic Music Conservatory in Copenhagen, he took active stance on the scene of European improvised music. Presently, he is the leader of Nuclear trio and Traffic Trio, a member of various international collectives such as Toxikum, electro-acoustic trio Red Planet, Copenhagen Art Ensemble, Pasborg's Odessa 5, Free Moby Dick, Mikko Innanen Inkvistio, and Vladimir Tarasov Trio.
 The musician plays as a duo with Marc Ducret, Ryoji Hojito, Petras Geniušas, Vladimir Tarasov and Artūras Bumšteinas, collaborates with Jacob Anderskov, Nils Davidsen, Mats Gustaffsson, Vladimir Chekasin, Arkady Gotesman, Mats Eilertsen, Mark Solborg,Jonas Westergaard, Jakob Riis, Jaak Sooäär and many other intriguing jazz musicians.
 He has taken part in programmes of Pierre Dorge and his New Jungle Orchestra,
performed with Andrew Hill's Jazz Par octet, Ibrahim Electric, Markus Pesonen Handenctet, Free Tallinn Trio, Hugo Carvalhais Nebulosa and other innovative collectives.
 In addition, he is famed not only as an exponent of improvised music and avant-garde jazz, but also as an expert of contemporary academic music. His repertoire includes works by academic music composers including Bronius Kutavičius, Anatolijus Šenderovas, Arvydas Malcys, Vyacheslav Ganelin, Dietrich Eichmann, Vykintas Baltakas, Raminta Šerkšnytė and Giedrius Puskunigis.
 The saxophonist is a member of Gaida and Konvoj Art contemporary music ensembles. As a soloist he has performed with Kralovy Hradec Symphony Orchestra, the Lithuanian State Symphony Orchestra and Lithuanian National Symphony Orchestra as well as St. Christopher and Klaipėda chamber orchestras and Chordos String Quartet. In 2013, together with pianist Petras Geniušas he recorded an albumJūra Miške (The Sea in the Forest) featuring original interpretations of M.K. Čiurlionis' piano preludes.
 With various formations the reed virtuoso has appeared in prestigious European jazz festivals, toured in the USA, China, Japan and Israel.
 Mockūnas is one of the re-establishers of the Lithuanian Jazz Federation and founder of NoBusiness Records, internationally esteemed Lithuanian label. The saxophonist's discography amounts to about fifty albums.
 Mockūnas is a prize winner of various jazz competitions in Lithuania, Latvia, Denmark and France; a recipient of prizes of Vilnius Jazz and Birštonas Jazz festivals, andLietuvos rytas daily, as well as Gold Disc awarded by the Lithuanian Musicians' Union. In 2011, he was decorated with a Golden Cross of the Stage (award for achievements in Lithuanian theatre field) for the best music for theatre production Damned after O'Neill's Mourning Becomes Electra (dir. A. Areima) at the OKT.
 Currently, Mockūnas is an associate professor of the Lithuanian Academy of Music and Kaunas Vytautas Magnus University Music Academy.
Young Norwegian tuba player Lars Andreas Haug is becoming famous for experimenting with instrument so rarely heard on jazz scene. He graduated from the Norwegian Academy of Music in Oslo. Last year he received three-year scholarship from Norwegian government to fine-tune his instrument tubmarine, a boosted traditional tuba.
 Lars Andreas Haug documented his eccentric and playful improvisations on many albums three of which he recorded as a group leader.
 He finds inspiration while travelling in Europe, Egypt, India and Japan as well as in folklore of various nations.
Peter Bruun, a graduate of the Royal Danish Academy of Music, started drumming at the age three. As a performer and composer he has collaborated with jazz and academic musicians.
 The drummer has worked with a number of jazz coryphées including Marc Ducret Quintet, Django Bates Trio, international ensembles Mold and Stork, Evan Parker, Chris Speed, Herb Robertson, Andrea Parkins, Lotte Anker, and Tim Berne.
 His drums can be heard on more than 20 albums, four of which are personal. The musician has been teaching at the Rhythmic Music Conservatory in Copenhagen and the Royal Academy of Music in Århus as well as different improvisation workshops.