PICTURES QUARTET
(Estija-Suomija)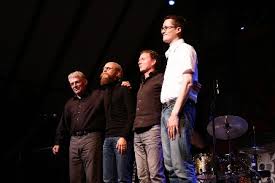 Ain Agan – g
Teemu Viinikainen – g
Mihkel Mälgand – db
Mika Kaillo – dr
Šie muzikantai atstovauja dviejų kaimyninių šalių džiazo elitui, groja su ryškiausiais Estijos ir Suomijos džiazo korifėjais, kurių daugelis yra žinomi ir Lietuvoje. 2009-aisiais ketveriukė išleido albumą Pictures, kuris davė impulsą tolesnei grupės veiklai.
 Ainas Aganas – legendinis Estijos gitaristas, džiazo kompozitorius, Viljandžio gitaros festivalio įkūrėjas ir meno vadovas. Jo gitara skamba daugiau kaip 100 Estijoje išleistų studijinių albumų.
1984-1997 metais A.Aganas buvo Estijos radijo orkestro ir bigbendo artistas, nuo 1999-ųjų groja Estijos Dream Big Band. Gitaristas taip pat muzikuoja grupėse Basic Concept, Meelis Vind Group, Eesti Keeled, Raivo Tafenau ir Sergio Bastos kolektyve, dviese su Lembitu Saarsalu, Mai Jögi, Olegu Pissarenko bei daugeliu kitų muzikantų.
Jis koncertavo JAV, Kanadoje, Kinijoje, Didžiojoje Britanijoje, Ispanijoje, Austrijoje, Prancūzijoje, Skandinavijoje ir kitose šalyse, išleido tris solinius albumus.
2009 metais A.Aganui buvo įteiktas Estijos kultūros sostinės prizas, 2010-aisiais – prestižinis Elion Jazz Promoter apdovanojimas.
Suomių gitaristą Teemu Viinikaineną jo šalies kritikai ne kartą rinko Metų džiazo gitaristu. Šis lankstus muzikantas yra ir meistriškas solistas, ir patikimas kitų atlikėjų partneris bet kurios sudėties grupėse.
Sėkminga T.Viinikaineno karjera prasidėjo populiarioje praėjusio dešimtmečio grupėje U-Street All Stars, kuri tapo džiazo konkurso Ispanijoje laureate, įgrojo du albumus prestižinėje Blue Note įrašų kompanijoje.
2005 metais Teemu išleido savo pirmąjį solo albumą Tales of Robert Dickson, vėliau su Ville Herrala ir Mika Kaillo įgrojo albumą Nyt!
Gitaristą į plačius vandenis pastūmėjo suomių džiazo korifėjai Eero Koivistoinenas, Jukka Perko, Jukkis Uotila. Teemu buvo du kartus nominuotas Teosto apdovanojimui už įrašus su J.Perko ir Severy Pyysalo. Jis yra Suomijos džiazo federacijos Yrjo bei Sony Jazz apdovanojimų laureatas.
T.Viinikainenas bendradarbiavo su JAV džiazo grandais Joe Lovano, Timu Hagansu, Randy Breckeriu. Nuo 2002 metų gitaristas dėsto Sibeliaus muzikos akademijoje.
Mihkelis Mälgandas priklauso jauniausiajai Estijos džiazo muzikantų kartai. Jis baigė Estijos muzikos koledžą, šiuo metu studijuoja Estijos muzikos ir teatro akademijoje.
Nepaisant jauno amžiaus, bosininkui teko muzikuoti jau su beveik visais geriausiais Estijos džiazo kūrėjais. Jis dalyvavo tarptautiniuose projektuose su Randy Breckeriu, Timu Hagansu, Franku Fosteriu, Johnu Scofieldu, Dennisu Rowlandu, Karlheinzu Miklinu, Nicku Ali, padėjo įgroti scenos partneriams daugiau kaip 20 kompaktinių diskų.
M. Mälgando atliekamos muzikos paletė – nuo hiphopo iki bibopo, nuo bosanovos iki laisvojo džiazo. Jis dar groja Estijos Dream Big Band.
Mika Kaillo garsėja drąsia vaizduote ir spalvingu techniniu arsenalu. Suomių būgnininko privalumus turėjo progą scenoje įvertinti tokios įtakingos Suomijos džiazo figūros kaip Eero Koivistoinenas, Pekka Pohjola, Sakari Kukko, Samuli Mikkonenas.
Su įvairiais muzikantais, tarp jų – lietuviams žinomais Kalle Kalima ir Mikko Innanenu – būgnininkas įgrojo daugiau kaip dešimt kompaktinių diskų. 2008-aisiais jis išleido ir savo solinį albumą.
PICTURES QUARTET
(Estonia-Finland)
Ain Agan – g
Teemu Viinikainen – g
Mihkel Mälgand – db
Mika Kallio – dr
Representatives of the jazz elite of two neighbouring countries, these musicians collaborate with Estonian and Finnish jazz coryphées many of whom are familiar to Lithuanian jazz aficionados. In 2009, the Quartet recorded Pictures, the CD that gave impulse for the group's further partnership.
Ain Agan is an Estonian legendary guitarist and jazz composer, the founder and art director of Viljandi Guitar Festival. His playing can be heard on more than 100 CDs released in Estonia.
In 1984-1997, Agan was a member of the Estonian Radio Orchestra and Big Band. Since 1999, he has belonged to the Estonian Dream Big Band. The guitarist also works with Basic Concept, Meelis Vind Group, Eesti Keeled, Raivo Tafenau and Sergio Bastos collective, plays as a duo with Lembit Saarsalu, as well as Mai Jögi and Oleg Pissarenko among many others.
He has performed in the USA, Canada, China, Great Britain, Spain, Austria, France, Scandinavia and many other countries, recorded three solo albums.
In 2009, Agan was awarded The Estonian Culture Capital Prize, and in 2010 honoured with the prestigious Elion Jazz Promoter Prize.
The versatility of Teemu Viinikainen, a Finnish guitarist, lies in his ability to perform both as a brilliant soloist and a reliable stage partner in any line-up. He has been repeatedly voted Jazz Guitar Player of the Year by Finnish critics.
The most important group at the start of Viinikainen's career was the U-Street All Stars, which rose in popularity during the early 2000s after a victory in Spain's Getxo Jazz Group Competition. The band also recorded two albums on the prestigious Blue Note label.
Viinikainen's first solo album Tales of Robert Dickson was released in 2005 and has been followed up with a new release entitled Nyt! on which he is accompanied by Ville Herrala and Mika Kallio.
The ensembles of Finnish jazz coryphées Jukka Perko, Eero Koivistoinen and Jukkis Uotila have assisted in Viinikainen becoming well known to jazz audiences. He has twice been nominated for a Teosto Award for his recordings with the Perko-Pyysalo-Viinikainen Trio. He is a recipient of the Finnish Jazz Federation's Yrjo Award and a Sony Jazz Award.
Viinikainen has cooperated with such major overseas artists as Joe Lovano, Tim Hagans and Randy Brecker. Since 2002, he has taught at the Sibelius Academy.
Mihkel Mälgand belongs to the youngest generation of Estonian jazz musicians. He has graduated from the Estonian Music College and currently continues his education at the Estonian Academy of Music and Theatre. Despite his young age the bassist has worked together with almost all leading Estonian jazz musicians and has taken part in international projects with Randy Brecker, Tim Hagans, Frank Foster, John Scofield, Dennis Rowland, Karlheinz Miklin and Nick Ali, has sided in more than 20 recordings.
Mälgand's stylistic musical palette spans from hip-hop to bebop, from bossa nova to free jazz. He is also a core member of the Estonian Dream Big Band.
Finnish drummer Mika Kallio is praised for his diverse tonal range and bold imagination. Such major Finnish musicians as Eero Koivistoinen, Pekka Pohjola, Sakari Kukko, and Samuli Mikkonen have benefited from his skills.
In more than ten recordings the drummer backed various musicians including Kalle Kalima and Mikko Innanen, already known to Lithuanian audiences. In 2008, Kallio recorded a solo album.