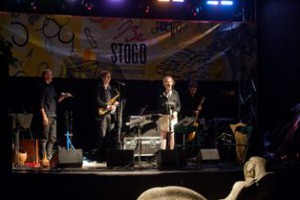 Leonardas Pilkauskas – saxes
Vytautė Pupšytė – voc
Paulius Volkovas – b
Tomas Dobrovolskis – perc
Šis mažiau nei prieš metus Leonardo Pilkausko sumanytas nestandartinis projektas buvo parodytas tik kelis kartus. Lietuvoje yra nedaug scenų, atvirų tokiai eksperimentinei nekomercinei muzikai. Jos stilius sunkiai įvardijamas. Tai subtilios kolektyvinės grupės narių improvizacijos, įkvėptos savitų poetinių Vytautės Pupšytės tekstų ir vokalinių efektų.
Saksofonininkas, kompozitorius ir aranžuotojas Leonardas Pilkauskas vadovauja daugeliui kolektyvų, nuolat ieško kūrybinių iššūkių. "Turėk viziją, parodyk iniciatyvą – ir būsi pripažintas", – atsleidė lyderiavimo paslaptį šalies jauniausios džiazo kartos atstovas.
Leonardas bendradarbiauja su įvairių užsienio šalių ir dauguma geriausių jaunosios kartos Lietuvos džiazo kūrėjų. Jis ėmė burti bendraminčius dar studijuodamas Lietuvos muzikos ir teatro akademijoje, Hagos karališkojoje bei Amsterdamo konservatorijose.
Amsterdame su bendramoksliais lietuvio įkurtas ansamblis "John Albert Group" sėkmingai pasirodė tarptautiniame džiazo jaunimo ansamblių konkurse Belgijoje. Tarptautinių gastrolių yra surengusi Leonardo suburta grupė "Stereo Drums", kurioje jis muzikuoja su dviem latvių būgnininkais ir estų kontrabosininku.
Saksofonininkas taip pat vadovauja kolektyvams "Sassy Connections", "D'pendent Ensemble",  "Re: Muzika, kuri gimė vakar". Pastarasis praėjusių metų pabaigoje išleido lietuvių estrados senųjų šlagerių aranžuočių albumą.
"Kad ir kur gyventum, galimybės visiems yra tos pačios. Svarbu nepraleisti gerų progų", – įsitikinęs Leonardas Pilkauskas, grįžęs į Lietuvą 2012-aisiais po šešerius metus trukusių studijų Olandijoje.
Lietuvos muzikos ir teatro akademijos džiazo vokalo magistrantė  Vytautė Pupšytė reiškiasi džiazo ir alternatyvios muzikos scenose. Anot dainininkės, stilistiniai rėmai reikalingi tiems, kurie stokoja fantazijos.
Šios solistės meilę muzikai pažadino džiazo plokštelės, klasikinės muzikos koncertai, legendinės roko grupės ir opera. Vaikystėje ji svajojo tapti operos dainininke, tačiau susižavėjusi Ellos Fitzgerald įrašais nutarė pasukti kitu keliu.
 Vytautė yra viena grupės "Jing'a'ling"  įkūrėjų. Su šia grupe ji laimėjo muzikos klubo "Tamsta" rengiamą konkursą "Garažas", koncertavo "Tamsta muzika", "Vilnius Mama Jazz", "Kaunas Jazz", Elektrėnų džiazo festivaliuose, "Sostinės dienose", gastroliavo Prancūzijoje, Rusijoje, Latvijoje. Grupės klavišininkas Vytis Smolskus šiuo metu yra pagrindinis solistės  kūrybos partneris.
 Dainininkė yra inicijavusi ne vieną bendrą projektą ir su Andrejaus Polevikovo džiazo kvartetu. 2012 metais ji laimėjo "Vilnius Jazz Young Power" konkurso "Grand Prix" su vokaline grupe "Singaz", be to, gavo konkurso prizą už geriausią originalią kompoziciją.
 Vytautė  dalyvavo  ir  džiazo projekte su danų grupe "Lada de Lux"  Danijos festivalyje, gastroliavo Vokietijoje, Suomijoje, Baltarusijoje. Šių metų pradžioje ji buvo atrinkta į tarptautinio konkurso "Riga Jazz Stage 2014" finalą, kuriame varžysis iš karto po Birštono festivalio.
 "Muzikos padangė beribė. Norisi išblaškyti dar ne vieną debesį, nukeliauti ne į vieną žvaigždę, pasisupti ant delčios ir nerti į saulę", – svajoja poetiška dainininkė.
Paulius Volkovas baigė Vilniaus kolegijos menų fakultetą. Nuo studijų metų jis dalyvauja įvairiuose džiazo festivaliuose ir konkursuose.
 2006-aisiais Pauliaus trio laimėjo pirmąją vietą tarptautiniame konkurse "Džiazo fontanas" Panevėžyje. Tais pačiais metais "Vilnius Jazz Young Power" konkurse jo grupės aranžuotė buvo pripažinta geriausia, o su grupe "Magic Mushrooms"bosininkas konkurse pelnė antrąją vietą. 2008-aisiais "Magic Mushrooms" buvo suteiktas geriausios "funk" grupės vardas Alternatyvios muzikos apdovanojimuose.
 Pastarajam kolektyvui ir grupei "Left Eye Right" gitaristas skiria daugiausia savo kūrybinės energijos. Be to, 2009-aisiais P.Volkovas pelnė "Vilnius Jazz Young Power" konkurso nugalėtojo laurus su grupe "Yrinauda".
 Muzikantas dalyvavo Vladimiro Čekasino, Daliaus Naujokaičio, Baibos Skurstenės projektuose, grojo su Kenny Wollesenu, Jonathonu Haffneriu, Jelle van Gielu, Steve'u Willemu Zwaninku,
Eugenijumi Kanevičiumi, Dmitrijumi Golovanovu, Liudu Mockūnu, Dariumi Rudžiu ir kitais džiazo meistrais.
 Paulius akompanuoja lindihopo šokėjams, ansambliui "The Ditties", groja grupėse "Saulės kliošas", "Jing'a Ling", "Migloko", "The Schwings", "Baisios stygos", "Mad Harmonix". Su įvairiais kolektyvais jis dalyvavo visuose didžiuosiuose Lietuvos džiazo festivaliuose, pasirodė Vokietijoje, Lenkijoje, Turkijoje, Latvijoje.
Kompozitorius ir perkusininkas Tomas Dobrovolskis eksperimentuoja tradiciniais bei savo išrastais unikaliais instrumentais – Variniu gaubliu, Stiklu, kitais – akademinės,improvizacinės, džiazo ir "world" muzikos bei šokio, teatro, televizijos, kino projektuose, aktyviai koncertuoja solo.
 Perkusininkas muzikavo "Psilikono teatro" spektakliuose, pristatė originalius projektus su multiinstrumentininku Sauliumi Petreikiu, japonų perkusininke Satoku Aoki, daugeliu šalies džiazo meistrų.
 Pastaraisiais metais Tomo Dobrovolskio muzika skambėjo ne tik Lietuvoje, bet ir Lenkijoje, Latvijoje, Danijoje, Švedijoje, Anglijoje, Belgijoje, Suomijoje, Islandijoje, Alandų salose, Izraelyje, Austrijoje, Italijoje, JAV, Pietų Korėjoje.
---
PROJECT LEOBARD GREY

Leonardas Pilkauskas – saxes
Vytautė Pupšytė – voc
Paulius Volkovas – b
Tomas Dobrovolskis – perc
Leonardas Pilkauskas conceived this unorthodox project less than a year ago and presented it just several times. In Lithuania there are very few stages open to such an experimental music, which is difficult to ascribe to any style – subtle collective improvisations inspired by Vytautė Pupšytė's poetical texts and vocal effects.
Saxophonist, composer and arranger Leonardas Pilkauskas leads many formations. He is constantly looking for creative challenges. "Have a vision and show your initiative and you will be recognised", a representative of the youngest Lithuanian jazz generation revealed the secret of leadership.
 Pilkauskas collaborates with the leading young Lithuanian and foreign jazz musicians. While still a student at the Lithuanian Academy of Music and Theatre, Royal Conservatory of The Hague and Conservatorium van Amsterdam he started drawing together likeminded musicians.
 Together with schoolmates in Amsterdam he formed John Albert Group, which earned recognition in the International Jazz Youth Ensemble Competition in Belgium. He has toured internationally with his Stereo Drums in which he teams up with two Latvian drummers and Estonian double bassist.
 The saxophonist also leads Sassy Connections, D'pendent Ensemble, Re: Muzika, kuri gimė vakar (Re: Music that was born yesterday). The latter has released an album featuring arrangements of old hits of Lithuanian pop music.
 "Regardless of where you live, the possibilities are equal to everybody. It is important to not miss a good opportunity", says Pilkauskas having returned to Lithuania in 2012 after six years of studies in the Netherlands.
Vytautė Pupšytė, a student at the Lithuanian Academy of Music and Theatre where she is pursuing Master Degree in Jazz Vocal, is active on both jazz and alternative music scene. According to the singer, stylistic frame is a necessity of those who lack imagination.
 Her love for music was inspired by jazz records, academic music concerts, legendary rock groups and opera. As a child she has dreamt to become an opera soloist, but having gotten fascinated with Ella Fitzgerald recordings she chose a different path.
 She is a co-founder of Jing'a'ling with which she won Garažas (Garage) competition organised by Tamsta music club, appeared in Tamsta muzika, Vilnius Mama Jazz, Kaunas Jazz and Elektrėnai Jazz festivals, as well as Sostinės dienos (Capital Days), toured in France, Russia and Latvia. Vytis Smolskus, the group's keyboardist, is her main artistic partner.
 The singer also has initiated a number of joined projects with Andrej Polevikov's Jazz Quartet. In 2012, with vocal group Singaz she won Grand Prix and received prize for the best original composition at the Vilnius Jazz Young Power competition.
 With Danish group Lada de Lux the singer took part in international jazz festival in Denmark, toured in Germany, Finland and Belarus. This year she was selected the finalist of Riga Jazz Stage 2014 international competition, where she is going right after Birštonas Jazz Festival.
 "The music's firmament is infinite. I want to chase many more clouds, travel to many more stars, swing on a wane and dive into the sun", dreams the poetic singer.
Paulius Volkovas graduated from the Fine Art Faculty at the Vilnius College of Higher Education. The guitarist began participating in jazz festivals and competitions while still a student.
 In 2006, his trio claimed first prize at the Jazz Fountain international competition in Panevėžys. The same year his group's arrangement was voted the best at the Vilnius Jazz Young Power where he also earned second prize together with Magic Mushrooms. In 2008, Magic Mushrooms was ranked the best funk group in the Alternative Music Awards.
 Recently, the guitarist has been devoting his creative energies mainly to Magic Mushrooms and Left Eye Right. In 2009, as a partaker of Yrinauda he became the winner of the Vilnius Jazz Young Power.  
 Volkovas has appeared in Vladimir Chekasin's, Dalius Naujokaitis' and Baiba Skurstenė's projects, worked with Kenny Wollesen, Jonathon Haffner, Jelle van Giel, Steve Willem Zwanink, Eugenijus Kanevičius, Dmitrij Golovanov, Liudas Mockūnas and Darius Rudis among other jazz masters.
 He also collaborates with lindy hop dancers, works with The Ditties, Saulės kliošas,Jing'a Ling, Migloko, The Schwings, Baisios stygos and Mad Harmonix.
 With various collectives the guitarist took part in Lithuania's jazz festivals, appeared in Germany, Poland, Turkey and Latvia.
Composer and percussionist Tomas Dobrovolskis enjoys experimenting with traditional instruments as well as the ones he has discovered – copper globe, glass, etc – in academic, improvised, jazz and world music as well as dance, theatre, television and film projects. He also gives solo performances.
 The percussionist's music was heard in Psilikono teatras productions; he has presented original projects with multi-instrumentalist Saulius Petreikis, Japanese percussionist Satoku Aoki, many Lithuanian jazz masters.
In recent years Dobrovolskis' music was performed not only in Lithuania, but also Poland, Latvia, Denmark, Sweden, Great Britain, Belgium, Finland, Island, Åland Islands, Israel, Austria, Italy, the USA and South Korea.