REMIGIJUS RANČYS QUARTET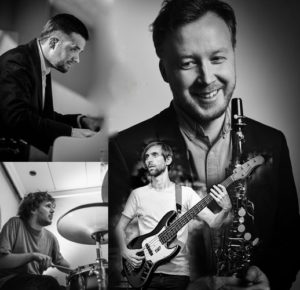 Remigijus Rančys – saxes, fls, perc
Kęstutis Pavalkis – p
Paulius Adomėnas – b
Ignas Kasikauskas – dr
The Birštonas Jazz's audience has repeatedly enjoyed the creativity of Remigijus Rančys. He has introduced new author programs on this scene, appeared in various formations, sided in the projects of his colleagues.
A versatile musician and multi-instrumentalist finds inspiration in books, good films, and impressions he brings from exotic countries. The language of music allows him to reflect on what is difficult to describe in words.
"I would like my listeners to discover new territories, broaden the limits of their perception," admited the musician, freely diving in both jazz and world music.
And he succeeds in his goals. Remigijus draws creative spark from Brazilian, African, Chinese, Japanese, Indian musical cultures and seeks to convey the visuality of music.
His inclinations are also reflected in his latest project Music About the World and People to be presented in Birštonas, which combines original world music-style compositions and photographs of the leader. Rančys describes it as "a journey of sounds and images."
For this project, he has gathered together talented musicians, with whom he has many times performed at various festivals.
Remigijus Rančys graduated as the saxophonist from the Rytmiske Hojskole in Denmark and the Conservatorium van Amsterdam, and also as a flutist and pedagogue from the Lithuanian Academy of Music and Theatre. He also plays keyboards and percussion, composes and arranges, enjoys collaboration with formations of different profile and appears in educational projects for children.
Rančys' one of the most ambitious groups – the Vilnius Jazz Orchestra, which unites leading Lithuanian jazz musicians, has performed in Birštonas Jazz many times. It has also enriched other international events in Lithuania and abroad.
With various collectives Rančys performed in Spain, the Netherlands, Latvia, Belarus, the Ukraine and Sweden.
Kęstutis Pavalkis is one of the most versatile pianists of his generation. He graduated from the Lithuanian Academy of Music and Theatre (LAMT), where he studied classical and jazz piano. Today he can be heard in jazz, pop and classical as well as world music projects, and also on theatre stage.
He has won prizes in international classical music competitions in Poland, the Czech Republic, France, Italy and Lithuania, and has performed with the Lithuanian State Symphony Orchestra and Lithuanian Chamber Orchestra.
Pavalkis employs his musical experience in solo and chamber music performances. His stage partners include singers Justė Arlauskaitė-Jazzu, Neda, Jurga Šeduikytė, Vytautė Pupšytė, and Julija Jačėnaitė, pop music artist Saulius Prūsaitis, Dixieland Green Bridge Band, multi-instrumentalist Saulius Petreikis and World Orchestra, as well as Leon Somov & Jazzu.
Kęstutis has been involved in many theatre projects, including Oskaras Koršunovas' Expulsion, a recipient of several Golden Crosses of the Stage, and the contemporary opera Have a Good Day! produced by Operomanija.
Paulius Adomėnas studied at the Lithuanian Academy of Music and Theatre. He plays bass guitar with the most creative Lithuanian pop- and alternative music bands and has repeatedly won prizes at the Vilnius Jazz Young Power competition organised by the Vilnius Jazz Festival. The musician also composes instrumental and vocal music.
Ignas Kasikauskas has graduated from the LAMT, where he studied in the Jazz Department. In addition, the drummer has taken part in master courses in Italy, Denmark and Finland.
Ignas is at home in a wide range of music – from pop- to free jazz. He has collaborated with many a renowned jazz performer including Arkady Gotesman, Juozas Milašius, Dalius Naujokaitis, Kenny Wollesen, Ingebrigt Håker Flaten, Jonathon Haffner, Eugenijus Kanevičius, Tomas Razmus and Arnas Mikalkėnas.
The drummer has appeared in Vilnius Mama Jazz, Vilnius Jazz, Kaunas Jazz, Peronas Jazz, Saulkrasti Jazz Festival  (Latvia) and Roma Summer Jazz Festival (Italy), toured in Germany, Slovakia, Austria, Russia and other countries.