RIMANTO BAGDONO GRUPĖ  JAZZ COMFORT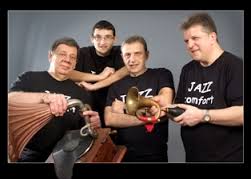 Rimantas Bagdonas – keyb
Igoris Švedko – cl, sax
Karolis Pratkus – cl
Vytautas Sutkus – dr 
Panevėžietis kompozitorius ir pianistas Rimantas Bagdonas subūrė šį kolektyvą 2002 metais.Grupė dažnai koncertuoja Panevėžio džiazo klube "Randevu", miesto šventėse ir kituose renginiuose, bendradarbiauja su žinomais šalies muzikais, tarp jų – Judita Leitaite, Pranciškumi Narušiu, Vytautu Labučiu, Leonidu Šinkarenka, Arvydu Joffe."Jazz Comfort" atlieka džiazo klasiką, Lotynų Amerikos muziką, balades bei lyderio kompozicijas. Birštono festivaliui kolektyvo vadovas parengė savo kūrinių ciklą "Koliažiniai žaidimai".
 Rimantas Bagdonas dar karjeros pradžioje pelnė įvairių prizų kaip kompozitorius ir aranžuotojas. Jo muzika melodinga, prisodrinta etninių spalvų. Per daugiau kaip 30 kūrybinės veiklos metų R.Bagdonas vadovavo įvairioms kamerinėms džiazo grupėms, Panevėžio estradiniam ansambliui "Ekranas", pučiamųjų orkestro "Panevėžio garsas" pagrindu suburtam bigbendui. Pianistas koncertavo Latvijoje, Estijoje, Rusijoje, Ukrainoje, Baltarusijoje, Vokietijoje, Švedijoje, Afrikoje, Vietname.
Birštonono scenoje R.Bagdonas debiutavo 1980-aisiais – pirmajame džiazo festivalyje "Birštonas", su tuometinės konservatorijos Klaipėdos fakultetų (dabar Klaipėdos universitetas) bigbendu. Vęliau jis čia pasirodė įvairiais amplua, muzikavo ne tik su Lietuvos, bet ir su Rusijos, JAV atlikėjais.
Pianistas bendradarbiauja su žymiausiais Lietuvos džiazo meistrais, rašo muziką teatrų spektakliams, kuria fortepijonines pjeses, muziką liaudies instrumentų orkestrui, kompozicijas bigbendui, kamerinį džiazą.
Be R.Bagdono būtų sunku įsivaizduoti Panevėžio džiazo gyvenimą. 1999 metais muzikas čia įkūrė džiazo klubą "Randevu", 2002 metais inicijavo tarptautinį vaikų ir jaunimo džiazo festivalį "Džiazo fontanas", tapusį tramplinu į profesinę karjerą daugeliui žinomų šalies džiazo kūrėjų.
Igoris Švedko baigė klarneto klasę Minsko konservatorijoje, grojo populiariame šio miesto diksilende "Renesans", vėliau – Lenkijos cirkuose. Muzikantas dalyvavo daugelyje festivalių, pelnė tradicinio džiazo virtuozo reputaciją.
Pastaraisiais metais grupę "Jazz Comfort" papildė jaunas klarnetininkas Karolis Pratkelis. Jis baigė klarneto klasę Lietuvos muzikos ir teatro akademijos Kauno fakultetuose, muzikuoja savo suburtame diksilende "Sweetband".
Vytautas Sutkus jau daugiau kaip 25 metus lydi R.Bagdoną įvairiose muzikos scenose. Šis universalus būgnininkas groja ne tik džiazą, bet ir popmuziką.
______________________________________________________________________________________
 
 RIMANTAS BAGDONAS' JAZZ COMFORT
Rimantas Bagdonas – keyb
Igoris Švedko – cl, sax
Karolis Pratkus – cl
Vytautas Sutkus – dr
Composer and pianist Rimantas Bagdonas, a Panevėžys resident, formed Jazz Comfort in 2002.
The group often appears in "Randevu" jazz club in Panevėžys, as well as takes part in city celebrations and various other events, collaborates with renowned Lithuanian musicians, including Judita Leitaitė, Pranciškus Narušis, Vytautas Labutis, Leonid Shinkarenko and Arvydas Joffė.
Jazz Comfort performs jazz standards, Latin American music, ballades and compositions by its leader. For the Birštonas Jazz audience the group presents Collage Games, the cycle of compositions by its leader. Rimantas Bagdonas has earned various prizes as a composer and arranger already at the start of his career. His melodious music is saturated with ethnic flavour.In more than 30 years Bagdonas has led various chamber jazz groups, Panevėžys' pop music ensemble Ekranas, and a big band formed on the basis of the wind orchestra Panevėžio garsas. The pianist has performed in Latvia, Estonia, Russia, the Ukraine, Belarus, Germany, Sweden, Africa and Vietnam.
 
Bagdonas made his debut in the Birštonas Jazz in 1980 (the inaugural festival) with the then Lithuanian State Conservatoire's Klaipėda Faculty (presently Klaipėda University) big band. Later he returned to the Birštonas Jazz in various capacities with Lithuanian, Russian and American musicians.
The pianist collaborates with the leading Lithuanian jazzmen, writes music for theatre, and composes works for piano, folk instrument orchestra and big band, as well as chamber jazz compositions.
Bagdonas is instrumental in Panevėžys' jazz life. In 1999, he established jazz club "Randevu", and in 2002 initiated the Jazz Fountain, an international children and youth jazz festival, which had served as a stepping-stone for a number of today's renowned jazz masters.
Igoris Švedko graduated from Minsk Conservatoire, where he studied the clarinet; played in Dixieland Renesans, later worked as a circus musician in Poland. The musician took part in many jazz festivals, has earned the reputation of a traditional jazz virtuoso.
Young clarinettist Karolis Pratkelis joined Jazz Comfort recently. He graduated from the Kaunas Faculty of the Lithuanian Academy of Music and Theatre; works with his Dixieland Sweetband.
Vytautas Sutkus has collaborated with Bagdonas on various music scenes for more than 25 years. The versatile drummer plays not only jazz, but also pop music.