TAMARA OBROVAC QUARTET
(Croatia)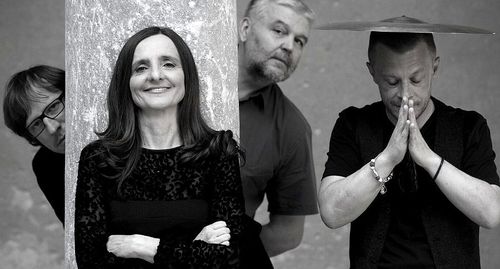 Tamara Obrovac – voc, composer
Matija Dedić – p
Žiga Golob – db
Krunoslav Levačić – dr
The Quartet is one of Tamara Obravac's, one of Croatia's most impressive artists, oldest formations, with whom 20 years ago she – vocalist, flutist and composer – presented a new way of thinking and composing, where she successfully connected her homeland's local, Istrian (a picturesque region of western Croatia), spirit of music and dialect together with the universal jazz expression.
In her music, Obrovac falls back not only on Croatian tunes. She also writes texts for her compositions in local dialects that no one uses anymore. The artist combines ethnographic and modern musical elements and jazz improvisations as naturally and spontaneously as if she had taken over this musical vocabulary with breast milk.
The Obrovac Jazz Quartet has been performing in an unchanged line up for over 20 years. Its activities were interrupted for some time, but the Quartet reunited in 2011 to surprise fans with a new breakthrough in creativity. The Quartet's album Ulika (1998), titled after Tamara's grandmother, was re-interpreted to become Ulika revival and receive enthusiastic acclaim in renowned international jazz media such as "All About Jazz", "Jazzthetik", "Jazz Podium" and others. Ulika revival had official release tour in the famous Lisinski Hall in Zagreb, the Cankarjev dom in Ljubljana and the Porgy & Bess jazz club in Vienna.
Joy of making music together, unlimited freedom of expression, humour and virtuoso improvisations, characteristic of all members of the Quartet, brought the musicians together again.
The Quartet's music reaches further than the constricted borders of musical classification, spreading the spirit of the Mediterranean region over geographic and musical boundaries. Since 1997, the band has performed at major foreign jazz festivals and clubs from Germany to Morocco.
Tamara Obrovac is recognized as one of the most prominent European ethno-jazz singers. Her performances brim with imagination, ingenuity and humour, and drive the audience to ecstasy. The vocalist's inspiration ranges from archaic traditions of Istrian music, baroque and classical music, to jazz, funk and rock. Her stylistic flexibility and voice control are stunning.
The Lithuanian audience had a chance to meet her Transhistria Ensemble, which also features the Quartet's bass player and drummer. In 2016, the ensemble performed at the Vilnius Jazz Festival. Transhistria Ensemble is Obrovac' second major collective alongside the Quartet enjoying international recognition for its mastery and unique blend of jazz, Mediterranean and Adriatic folklore and contemporary music.
Wherever these ensembles go, they leave the audience amazed at their unusual mentality and thinking, and astounded by the leader's vocal abilities. The geography of Obrovac's concerts is impressive: from Scandinavia to Africa, from the US to China and Japan, as well as all over Europe.
The artist's discography includes 11 author albums. For her recordings she has been awarded eight Croatian Grammy – Porin (the national music prize), mainly for the best world music albums and as the best vocalist.
In 2003, Obrovac was voted the best Croatian female artist, and in 2009 was awarded the Order Danica Croatia for achievements in culture. In 2004, the Croatian was nominated for the BBC Radio 3 Awards for World Music (European music and audience award categories). The artist has also received numerous awards for her music for theatre and film.
Growing up in a family of musicians, Matija Dedić listened to a variety of music from early age. His mother, pop and jazz singer Gabi Novak, has toured with Luis Armstrong, Garry Burton, Phill Woods, Toots Tielmans and other legends.
Matija started playing piano at the age of five. After graduating from Vatroslav Lisinski School of Music, he continued his education at the Graz Jazz Academy in Austria. Upon his return to Zagreb, the pianist began performing on the Croatian jazz scene, and formed his own band, the Boliers Quartet.
In 2002, Dedić was a finalist at the Montreux Jazz Festival Piano Competition.
The pianist has performed with various stage partners in many European countries, USA, Argentina, China and Morocco. He has shared the stage with a number of notable music personalities including Alvin Queen, Martin Drew, Ron Ringwood, Gianni Bass, Miles Griffith, Lenny White, Kendrick Scott, Vicente Archer, Buster Wilms, Antonio Sanchez, Scott Colley, Chris Cheek, Jonathan Blake, Matt Brewer, Manu Katché, Gregory Hutchinson and Joe Sanders.
Occasionally, Matija sides pop stars, writes music for theatre and television. For the album Ostopussy, he was recognized as the decade's best composer and jazz tyro.
Žiga Golob was born in Slovenia, where he began his musical career as a bass player joining his first music band at the age of ten. Later, he studied double bass in Ljubljana, played in rock and reggae bands, performed and recorded with the Slovenian Radio Big Band, and devoted several creative years to his native jazz scene.
However, the artist fell in love with Croatia, where he has been active in music to this day. Golob's bass sounds on about 100 albums released in Slovenia, Croatia, Austria, Ireland, France, Spain, Germany and elsewhere.
He has appeared in concerts, festivals and clubs in more than 20 European countries, USA, Australia, Japan, Morocco and China.
Krunoslav Levačić has been interested in jazz since childhood and at the age 17 made his debut on the stage, having learned to play percussion on his own. From 1989, the musician began appearing more frequently in Germany. In 1991–1996, he lived and worked in Cologne. At the time, Levačić played in the WDR Big Band, the Joachim Ullrich Orchestra and teamed up with other German performers and bands.
The drummer has collaborated and recorded with a number of celebrities including Lee Konitz, Sam Rivers, Charlie Mariano, the Gramelot Ensemble, Charles Gayle, Greg Cohen, Thomas Clausen, Simon Zanchini, Dusko Goykovich and Zoltán Lantos.