THE EFFECT  IR  INDRĖ DIRGĖLAITĖ
(Švedija – Danija – Lietuva)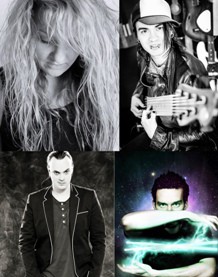 Carl Mörner Ringström – g
Henrik Linder – b
Jonathan Lundberg – dr
Indrė Dirgėlaitė – voc
Indrė Dirgėlaitė jau trečią kartą prisistato Birštone su skandinavų muzikantais. Šį sykį jos partneriai – danų gitaristas Carlas Mörneris Ringströmas ir švedų bosininkas Henrikas Linderis bei būgnininkas Jonathanas Lundbergas, su kuriais vokalistė susipažino ir pradėjo bendradarbiauti studijuodama Stokholme. Su Jonathano Lundbergo grupe Indrė pasirodė ne viename festivalyje, tarp jų – "Swedish Jazz Celebration" ir "New Sound Made".
Tarptautinis kolektyvas parengė lietuvių publikai "fusion" muzikos programą iš savo originalių kompozicijų. Muzikos kūryba – svarbi visų šio projekto dalyvių saviraiškos sritis.
Carlas Mörneris Ringströmas baigė Kopenhagos ritminės muzikos konservatoriją. Universalus gitaristas bendradarbiauja su įvairių krypčių skandinavų muzikantais, intensyviai kuria muziką. Pernai jis išleido "fusion" muzikos albumą "Neocolony".
Henrikas Linderis plačiai žinomas pasaulyje kaip švedų grupės "Dirty Loops" bosininkas. Šis trio pelnė tarptautinį pripažinimą savitomis pophitų aranžuotėmis. Tačiau kelią į sėkmę grupei praskynė ir įspūdinga Henriko grojimo technika, jo virtuoziški solo.
Bosininko kūrybos paletėje persilieja džiazo, "fusion", fanko, akademinės muzikos spalvos.
Jonathanas Lundbergas muzikanto karjerą pradėjo būgnydamas orkestruose ir diksilenduose. Po studijų Holivudo "Musicians Institute" jis tęsė mokslus Stokholmo karališkajame muzikos koledže, grojo kaip laisvai samdomas atlikėjas miuzikluose, šou ir kituose projektuose.
Pastaraisiais metais būgnininkas sutelkė dėmesį į muzikos komponavimą. Pernai su savo grupe jis išleido autorinį albumą "Nabula", kuris sulaukė labai palankių kritikos įvertinimų.
Jonathanas keliauja su savo grupe ir kitų muzikantų projektais po visą pasaulį. Jis ne kartą grojo ir Indrės grupėse, į Lietuvą atvyko jau antrą kartą.
Indrė Dirgėlaitė studijavo džiazo vokalą Klaipėdos universitete, Lietuvos muzikos ir teatro akademijoje, J.Sibeliaus muzikos akademijoje Suomijoje bei Stokholmo karališkojoje muzikos akademijoje Švedijoje. Ji – daugelio konkursų ("New Wave", "Malwy 2000", "Fizz Superstar", "Sing Jazz" ir kt.) prizininkė bei finalininkė.
Dainininkė bendradarbiauja su džiazo, roko, folkloro muzikantais, bardais ir aktoriais. Ji pasirodė džiazo, šiuolaikinio meno ir kitokiuose festivaliuose su suomių, švedų, Kroatijos, Meksikos bei lietuvių muzikantais daugelyje Europos šalių, tarp jų – Graikijoje, Vokietijoje, Rumunijoje, Suomijoje, Švedijoje.
Indrė Dirgėlaitė įkvėpė daug tarptautinių projektų, tarp jų – "On stream" (Lietuva/Švedija/Meksika/Kroatija), "Blue Coast" (Lietuva/Suomija), "Virsmas" (Lietuva/Suomija), "White Sand Songs"(Lietuva/Švedija).
Solistė dalyvavo Lietuvos valstybinio simfoninio orkestro (meno vadovas ir vyr. dirigentas Gintaras Rinkevičius) populiariosios muzikos programose, sukūrė Jurgos vaidmenį Viačeslavo Ganelino miuzikle "Velnio nuotaka".
Šio kolektyvo kelionės išlaidas padengė Švedijos Karalystės ambasada Vilniuje. 
---
THE EFFECT  AND INDRĖ DIRGĖLAITĖ
(Sweden – Denmark – Lithuania)
Carl Mörner Ringström – g
Henrik Linder – b
Jonathan Lundberg – dr
Indrė Dirgėlaitė – voc

Indrė Dirgėlaitė makes her third appearance in Birštonas with Scandinavian musicians. This time she teams up with Danish guitarist Carl Mörner Ringström, Swedish bassist Henrik Linder and drummer Jonathan Lundberg. The vocalist met and started collaborating with these musicians while studying in Stockholm. With Jonathan Lundberg's group she has appeared in several festivals including Swedish Jazz Celebration and New Sound Made.
 International collective brings fusion music programme combining their original compositions. Composition is an important part of self-expression of all the participants of the project.
Carl Mörner Ringström graduated from the Rhythmic Music Conservatory in Copenhagen. Versatile guitarist collaborates with various Scandinavian musicians, composes. Last year he released fusion music album Neocolony.
Henrik Linder is internationally known as the bassist of Swedish group Dirty Loops. This trio has earned international recognition with their unique pop hit arrangements. However, Linder's impressive technique and virtuoso solos also added to the group's success.
 The bassist's creative palette embraces elements of jazz, fusion, funk and academic music.
Jonathan Lundberg started his career as a drummer in orchestras and Dixieland. Upon graduation from the Musicians Institute in Hollywood, he furthered his education at the Royal College of Music in Stockholm, freelanced in musicals, shows and other projects.
 Recently, the drummer has focused on composition. His personal album Nabulareleased with his own group last year earned critical acclaim.
 With his own group and other projects Lundberg tours around the globe. He has repeatedly appeared in Dirgėlaitė's groups. This is his second visit to Lithuania.
Indrė Dirgėlaitė studied jazz vocal at the Klaipėda University, the Lithuanian Academy of Music and Theatre, the Sibelius Academy in Finland and the Royal Swedish Academy of Music in Stockholm. She was a prize winner and finalist in many competitions (New Wave, Malwy 2000, Fizz Superstar, Sing Jazz, etc).
 The singer collaborates with jazz, rock and folk musicians, as well as bards and actors. Together with Finnish, Swedish, Croatian, Mexican and Lithuanian musicians she has appeared in jazz, contemporary art and various other festivals in many European countries including Greece, Germany, Romania, Finland and Sweden.
 Dirgėlaitė has inspired many an international project including On stream(Lithuania/Sweden/Mexico/Croatia), Blue Coast (Lithuania/Finland), Virsmas(Lithuania/Finland) and White Sand Songs (Lithuania/Sweden).
 The soloist took part in popular music programmes with the Lithuanian State Symphony Orchestra (artistic director and principal conductor Gintaras Rinkevičius), appeared as Jurga in Vyacheslav Ganelin's musical Velnio nuotaka (The Devil's Bride).
 The group travel expenses covered Swedish Embassy in Vilnius.