VIKTORIJA PILATOVIČ QUARTET
(Lithuania – Spain)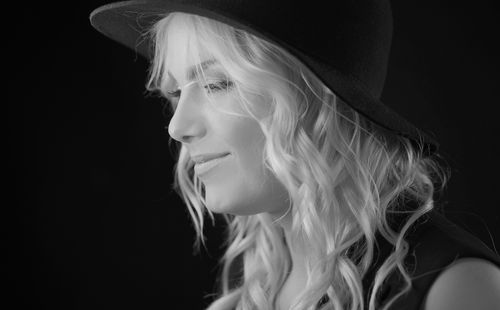 Viktorija Pilatovič –  voc, synth, author
Alberto Palau –  p
Ales Cesarini –  db
Mariano Steimberg –  dr
Viktorija Pilatovič, a Lithuanian jazz vocalist and composer, pedagogue at the at the USFQ College of Music, Berklee College of Music International Network Member School in Valencia and various international jazz seminars, is well known to the Lithuanian audience from her performance at the Vilnius Mama Jazz Festival in 2012. Then she introduced herself with her international quintet, and this time she brings together different international formation, the quartet, all members of which are her colleagues in Spain.
With this band, Viktorija has recorded her latest – third – album, The Only Light. In Birštonas Jazz the Quartet will perform compositions from their latest release. Music and lyrics of all of them were written by the band leader, who has described this album as "a blend of past memories and future dreams."
Released in July of last year on renowned saxophonist Greg Osby's "Inner Circle Music" record label, this album has already earned the nomination for the Best Jazz Album in the "Premi Carles Santos" Awards in Valencia. According to Greg Osby, "ranked among the best of the new wave of contemporary singer/songwriter/performers, Pilatovič offers her listeners a heightened sense of musicality and overwhelming joy, all wonderfully packaged within a series of beautifully framed soundscapes".
"Very seldom does one come across the extreme talent, brains and drive to compose, arrange and perform, as I have witnessed in the voice and musical prowess of jazz vocalist Viktorija Pilatovič," admitted yet another jazz celebrity, vocalist J.D. Walter.
Born in Klaipėda, Viktorija Pilatovič started studying classical piano at the age of six and has been the winner of several Carl Czerny International Piano Competitions. However, she studied jazz vocal at the Lithuanian Academy of Music and Theatre and from 2010 continued her studies at the Prins Claus Conservatorium in Groningen (The Netherlands), where she switched from traditional to contemporary jazz.
In 2011, Viktorija became the winner of The Nederland Jazz Vocalisten Concours, performing her original arrangement of the standard. Before long, she has appeared as a soloist with the legendary John Clayton Symphony-jazz Orchestra and made her debut at the Montreux Jazz Festival in Switzerland.
After receiving a scholarship, she furthered her education at the Berklee College of Music, and in 2013 went on to teach jazz vocal in Ecuador, where she worked for several years at the aforementioned college's international network member school.
In 2013, Viktorija released her second album, Nica's Blues, and in 2017 – her third, Stories. Both were issued on the same "Inner Circle Music".
During her studies and later, the artist shared the stage with Victor Wooten, Danny Grissett, Abraham Laboriel, Victor Mendoza, J.D. Walter, Perico Sambeat, Ralph Peterson, Alex Sipiagin, David Berkman, Don Braden, Jeff Cascar, Joris Teepe, Freddie Bryant, Gene Jackson, Robin Eubanks and other jazz coryphées.
Recently, she has been active in various projects with her Spanish quartet.
Alberto Palau is the only Spaniard in the Quartet. He graduated with honours from Berklee College of Music in Boston, and was recognized as the best soloist in student group jazz competition in 2014.
While living in Boston and New York, the pianist collaborated with Christian McBride, Pat Metheny, Jorge Pardo, Joe Lovano and Ben Monder. Later, having settled in London, he performed with the leading British improvisers and visiting foreign artists, including Charles McPherson.
Ales Cesarini was born in Rome and currently lives in Valencia, where he received education as a classical double bassist. Later he studied contemporary music and attended various jazz seminars at the Conservatorio Municipal de Valencia.
The double bassist plays not only jazz, but also a wide variety of music including Latin American, African folklore, flamenco, reggae, electro-acoustic and contemporary. He has performed and recorded with Bitty Mclean, Perico Sambeat, Greg Hopkins, Dave Barker, Spanish Brass Luur Metals, Albert Sanz, Sedajazz Bigband, Thaïs Morell, Kontxi Lorente, Nacho Maño and many more.
Argentina-born drummer Mariano Steimberg is just as versatile a performer. His musical interests range from jazz mainstream to experiments with electronics, from Latin American rhythms to funk and pop music. The artist is in demand with Cuban and Brazilian musicians, pop stars, jazz celebrities and folklore enthusiasts.
Mariano fell in love with the drums from the first sight, at the age of 13, and he chose this instrument at the music school in Buenos Aires. He later graduated with honours from the Institute of Music, and studied extensively independently and privately with the leading percussionists.
At the age of 18, Mariano began his own teaching practice to earn a trip to the United States. It soon became his new passion, which got greatly enriched by his colourful musical experience. At the age of 21, Steimberg moved to Spain, where he continues his teaching career – has been teaching percussion at the Berklee College of Music International Network Member School in Valencia for eight years.
The drummer has played with numerous Argentinean, Spanish, American and Brazilian celebrities including Victor Mendoza, Polo Orti Quartet, Eddie Gomez, Luis Salinas, Walter Malosetti, Perico Sambeat, Joel Harrison, Dick Oatts, Jerry Gonzalez, Gary Willis and Bill McHenry.