VILNIUS UNIVERSITY OF APPLIED SCENCES INTERNATIONAL PROJECT VIRU VIRU KOŠĘ
(Lithuania – Azerbaijan – Denmark; artistic director Skirmantas Sasnauskas)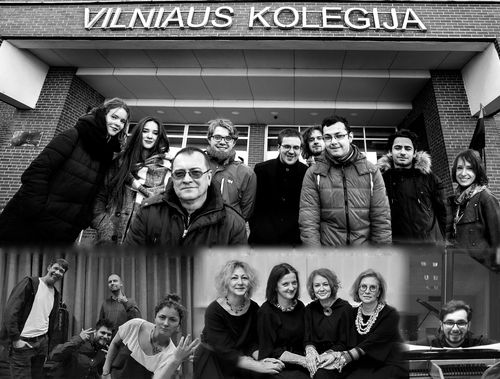 Skirmantas Sasnauskas – tb, bagp, voc, author
Vita Rusaitytė – voc, arranger
Richardas Banys – keyb
Sutartinės chanters' group Ūtara
Rytis Kurkulis – video
This year the students of the Vilnius University of Applied Sciences will be led to the Birštonas Jazz stage by multi-instrumentalist and composer Skirmantas Sasnauskas, one of the most remarkable Lithuanian folk jazzmen, and his stage and life partner jazz vocalist and arranger Vita Rusaitytė, the head of the Department of Rhythmic Music at the University, whose efforts have led to the University's international projects.
Birštonas Jazz has seen students from this school playing with Scots from Stevenson College in Edinburgh and Latvians from Jāzeps Vītols Latvian Academy of Music in Riga. And this year's show aims to unite the young talents from three countries.
In the project Viru Viru Košę, the students of the Department of Rhythmic Music at the Vilnius University of Applied Sciences Martynas Stoškus (percussion), Vainius Indriūnas (bass guitar), Stasys Turanas Juraška and Matas Ričkus (guitars), Lukas Pocius (saxophone, clarinet), Antanas Jurkevičius (trumpet), singers Gabija Baužaitė, Meirita Šarkytė and Emilija Bučinskaitė will be joined by Erasmus and Nord+ exchange programs participants from the Aarhus/Aalborg Royal Academy of Music: Linde Tillmanns (violin, percussion), Lasse Bygum Herold Krarup (percussion), Jonas Noer Dannerbugt (guitar) and Kasper Winther (bass guitar) as well as Jalal Samadov (keyboardist, vocals), a student of the National Conservatory of Azerbaijan.
In addition, the Sutartinės chanters' group Ūtara will play an important role on the stage, since Viru Viru Košę is an ethno-jazz project, a blend of three different cultures – Lithuanian folklore, Danish motifs and Azerbaijani Mugham.
In this project the original Lithuanian sutartinės will blend into works arranged by Vita Rusaitytė, enriched with original themes by her and Skirmantas Sasnauskas. Azerbaijani Mugham (one of the most important Azerbaijani traditional music genres, a highly complex art form that weds classical poetry and musical improvisation in specific local modes) and improvisation on its theme will lend an exotic flavour to the program.
Even though the generators of Viru Viru Košę do not promise theatrical tricks, the determination to bring 20 musicians on the stage and unite them for a common deed triggers curiosity. Both leaders will be helped by jazz pianist Richardas Banys, a colleague from the University, and cinematographer Rytis Kurkulis who created a video projection specially for this performance.
Skirmantas Sasnauskas is a regular participant of Birštonas Jazz. His creative horizons range from contemporary academic and Lithuanian folk music to ethno-jazz, free jazz and Brazilian music. Educated as a trombonist at the Lithuanian Academy of Music and Theatre, he is also known as jazz vocalist, music arranger and leader of big bands.
Sasnauskas took part in projects of Ex tempore contemporary music ensemble, collaborated with Vladimir Chekasin's Big Band, Danielius Praspaliauskis' Dixieland, Vladimir Tarasov's The Lithuanian Art Orchestra and Šiauliai Big Band, was the leader and soloist of Kaunas Big Band, worked with the LRT jazz orchestra.
The musician is one of the leading personalities on the Lithuanian folk-jazz scene. Not only he is a trombone expert, but also a skilled performer on folk instruments – bagpipe, goat-horn, reed and kanklės.
In 1988, he was awarded a special prize in Birštonas Jazz for an imaginative treatment of folklore and in 1992, Sasnauskas Quartet garnered Birštonas Jazz Grand Prix. In 2007, the musician was decorated with Vilnius Jazz festival award for his contributions to Lithuanian jazz.
Sasnauskas has collaborated with majority of Lithuanian jazz luminaries, and has ushered many a young colleague into Lithuanian jazz scene. He has toured in Finland, Germany, Sweden and Spain among other countries.
Vita Rusaitytė studied jazz vocal at the Klaipėda University and acting at the Lithuanian Academy of Music and Theatre. Currently, she serves as the head of the Department of Rhythmic Music at the Vilnius University of Applied Sciences.
She was voted the best in the Baltic States jazz competition "Sony Jazz Stage" (Latvia) and competition "Lady Summertime" (Finland), and earned second prize in "Nomme Jazz" (Estonia). The singer has appeared in jazz festivals in Estonia ("Jazz Kaar"), Latvia ("Rigas Ritmi") and Scandinavia.
Rusaitytė has recorded author album Kokia graži diena (What a Beautiful Day) in which she is credited for music and almost all texts. Recently, she has been focusing on an arranging for various formations ranging from combo to big band and sympho-jazz orchestra, and this time she might even step on the conductor's podium.
Pianist Richardas Banys earned the Master Degree in Jazz Piano from the Lithuanian Academy of Music and Theatre in 2016, but started collecting jazz awards much earlier.
In 2005 and 2006, he won Džiazo fontanas (Jazz Fountain) competition in Panėvežys. In 2014, he was voted the best instrumentalist in Vilnius Jazz Young Power competition and captured second prize in Jazz Improvisation international jazz piano competition organised at the LAMT. In 2015, the pianist earned third prize and a special prize for stage presence in Jazz World international jazz competition in Rostov (Russia).
The musician plays in a trio with Neda Malūnavičiūtė and Vytautas Labutis, collaborates with many other Lithuanian jazz masters. In addition, he appears in academic music concerts.
Currently, he teaches the piano in the Department of Rhythmic Music at the Vilnius University of Applied Sciences.
Members of the sutartinės chanters' group Ūtara (Lilija Milašienė, Rūta Aladavičienė, Aušra Antanavičienė) started chanting sutartinės 30 years ago in Ratilio, the folklore group of the Vilnius University. In 1988–1996, they were members of Vydraga folklore ensemble. Vydraga recorded CD Laumių sekmės (Tales of Witches), which was re-issued in 2012. Skirmantas Sasnauskas, who was a member of Vydraga at the time, is also featured in this album.
The chanters have come together again in 2012 naming their group Ūtara (a verb ūtaroti means to talk, to chat, to tell stories). They sing feminine Lithuanian folksongs, chant sutartinės in various folklore festivals, appear in folklore and jazz events.
In 1998, Rytis Kurkulis graduated from the Lithuanian Academy of Music and Theatre, where he studied film and television cinematography. Later he continued his education at the Cinema and Audiovisual School of Catalonia (ESCAC) in Barcelona.
In more than 10 years of his professional career, the artist has collaborated with many Lithuanian audiovisual producers as a cinematographer for music videos, commercials, television and feature films as well as documentaries. His filmography amounts to almost 20 films, including highly rated 100 Years Together (directed by Edita Kabaraitė) and Emilija (directed by Donatas Ulvydas).